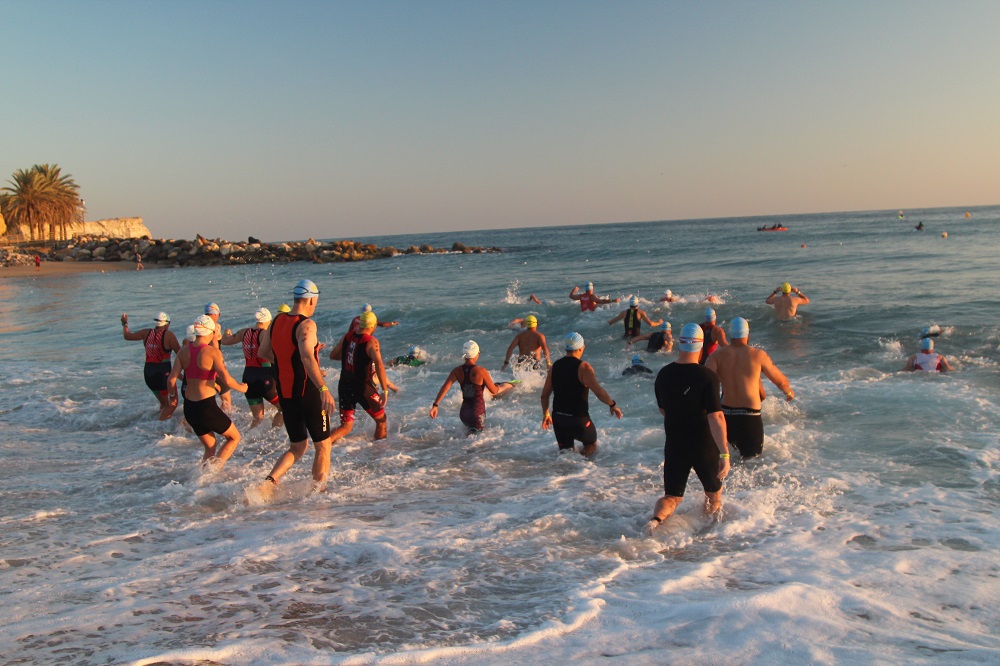 03 Dec

2019 Triathlon Festival Oman Race Report

Chilled vibe and sizzling performances highlight inaugural Triathlon Festival Oman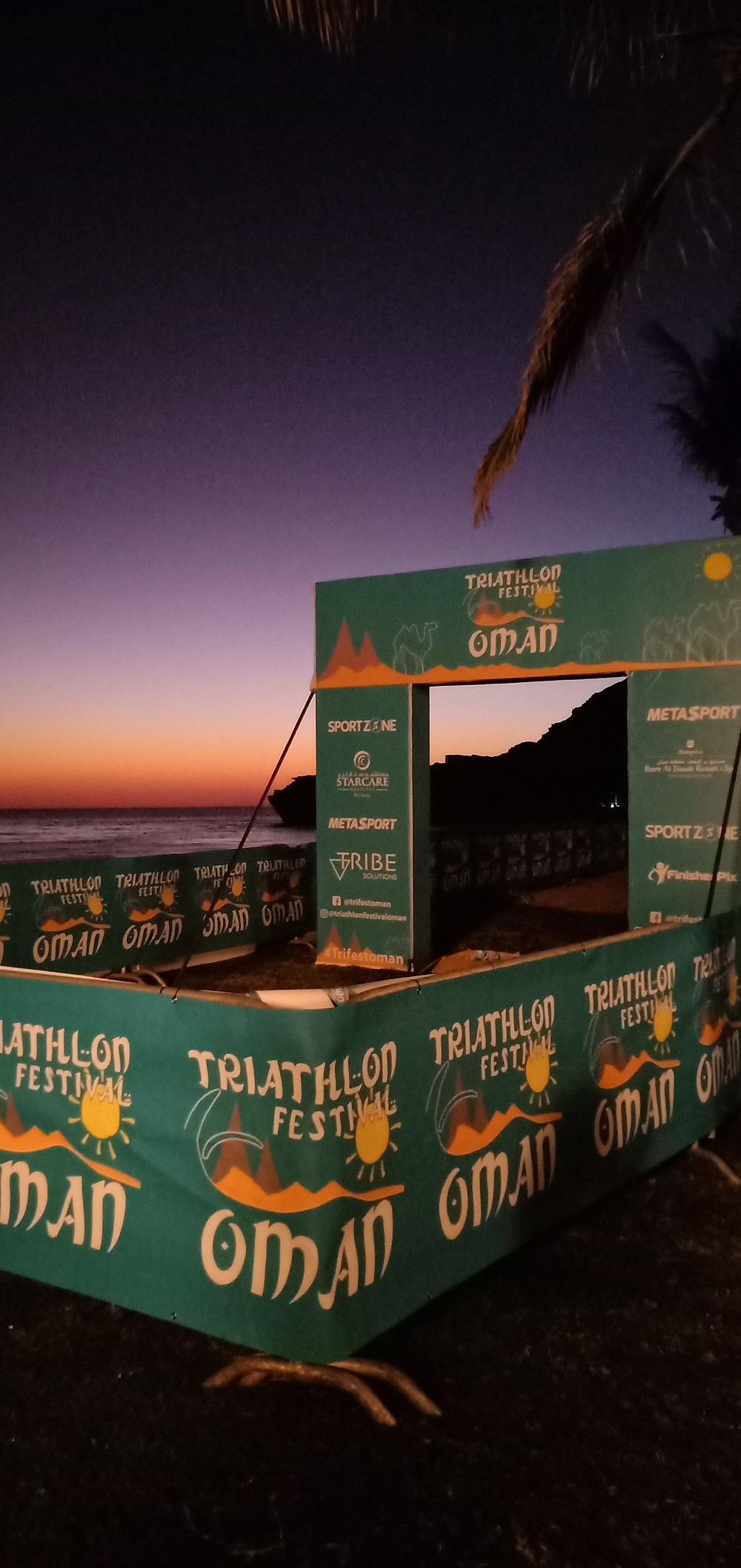 Oman basked in a triathlon glow last weekend as the first edition of the event got underway from the picturesque shores of the Shangri La Barr al Jissah Resort.
Asia's premium event organiser MetaSport, joined local specialist Oman Sports Zone to bring the two-day triathlon festival concept to Oman.
Friday's racing action saw Spaniard Mikel Calahorra become the men's Olympic Distance champion. The Bahrain-based athlete exited the swim with a 3-minute lead over locally based Brit's Ryan Sherlock and Gary Cummings. Calahorra then extended his lead during the hilly bike leg that graced the Omani coastline, gaining another four minutes before holding his place at the front of the race during the run, crossing the finish line in 2:27:08. Cummings and Sherlock were left to battle for the remaining podium positions, the duo coming off the bike close together before Cummings put his foot down on the run to establish a four-minute gap. He crossed the line in second place in 2:35:54, followed by Sherlock in a time of 2:40:16.
In his post-race interview Calahorra detailed his race experience "It's the first time I have raced in Oman, I was looking forward to racing here because it's hilly and challenging. The race was above my expectations. The swim was amazing – I like wavy swims which we had here, the bike had beautiful roads and perfect tarmac where you can really go fast, and you also have climbs. The run was tough, but the off-road track next to the water canal and the mountains was really beautiful– I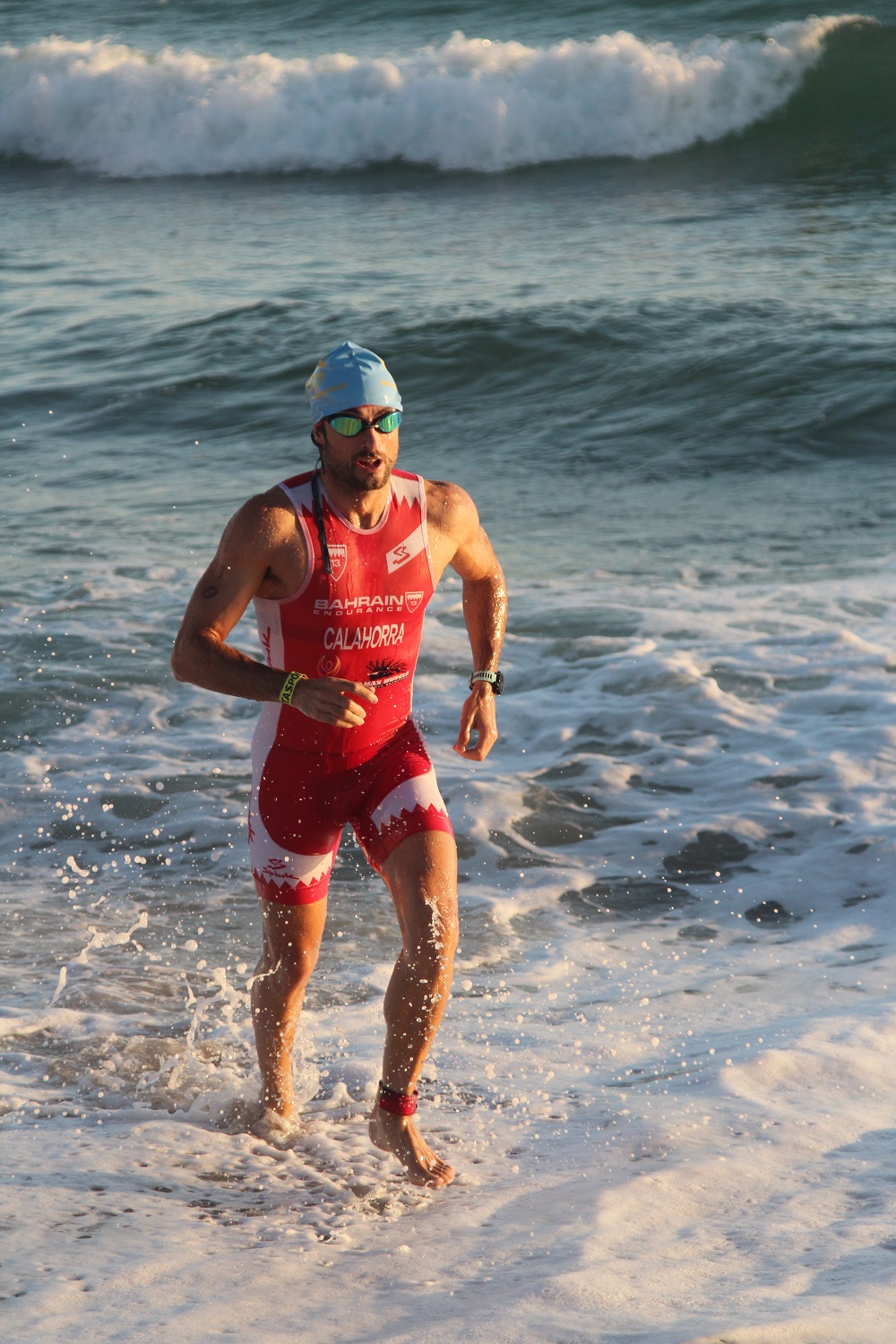 was really enjoying my run." said Calahorra.
Will he come back next year? "Ohh yes I am expecting to come back!".  But first, another race… "Next week I am racing IRONMAN 70.3 Bahrain and I wanted a good test before, so I came here fully loaded on training so I didn't know how I would feel – but it went pretty well so I am happy and ready for next week."
Lauren Kilian, a 20-year Omani resident who hails from Britain took the women's crown, breaking the tape in 2:48:58. A strong s
wim of 36:14 set up her dominating win, a swim time that was bettered only by male champion Calahorra. Chloe Gueguen from France was second female out of the water, followed by another British athlete Anna Brockman.  While Kilian was extending her lead over the duo through the bike section, Brockman overtook Gueguen to move into second place.  And this is how the podium positions stayed during the run, with Kilian storming home to take the win in 2:48:58, four minutes ahead of Brockman, with Gueguen another seven minutes further back.
Kilian described her race "The sea was a bit rough this morning but it's my strongest discipline so I enjoyed the swim, the bike here is always a challenge but I've been training hills so that came in handy today.  The run had a little bit of off-road which was new and different, but I held my own and hit the podium so I was very happy with it."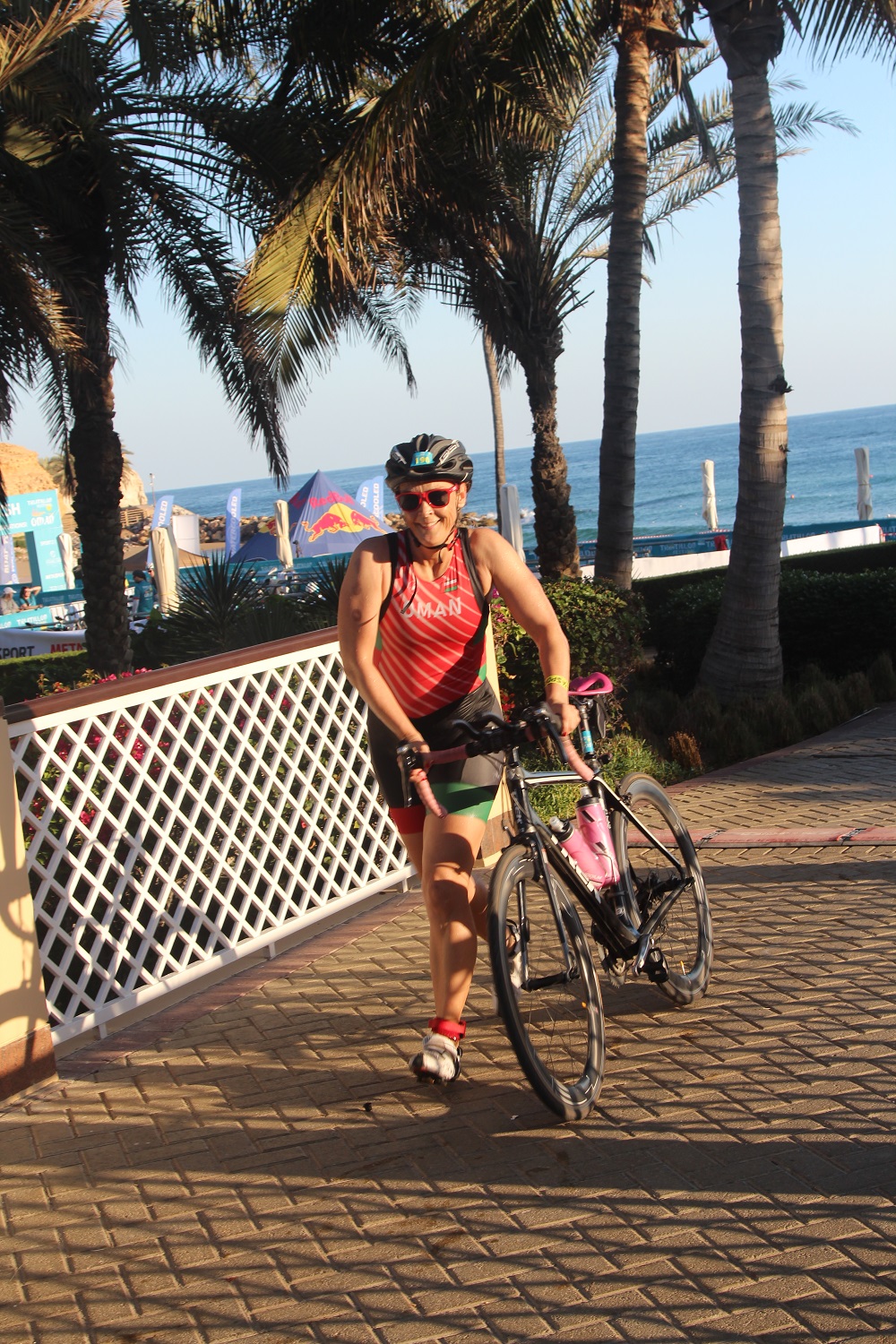 Sprint athletes joined the fun, with many first-timers claiming a coveted finisher medal. Ionut Nistoroiu led the men's field through the course, finishing in a time of 1:25:47. It was behind him however that the battle was evolving, with Alistair Krull and Paolo Delicata fighting it out for second place. Coming out of the water neck and neck, Krull gained nearly 2 minutes lead on the bike, but Delicata used his stellar run leg to his advantage, coming within seconds of his prey but just missing the catch. He settled for third in 1:34:56, four seconds behind Krull. In the women's race, Heidi McDonald took victory, the Canadian finishing in 1:46:37. In second was Griet Martens in 1:51:55, with Belgian Caroline Bolle taking third in 1:56:34.
A tranquil Sunset Fun Run rounded out the first day's action, with bubbly kids strutting their stuff over the 1km distance, and energetic souls tackling the hilly 5km course. Stunning vistas of the sun dropping behind the mountains rewarded runners as they crested the final hill towards the finish line.
A highly competitive 1km Open Water Swim kicked off Saturday morning's proceedings with a field that included previous ITU Long Distance World Champion Rob Barel. The Dutchman didn't have it his own way however, with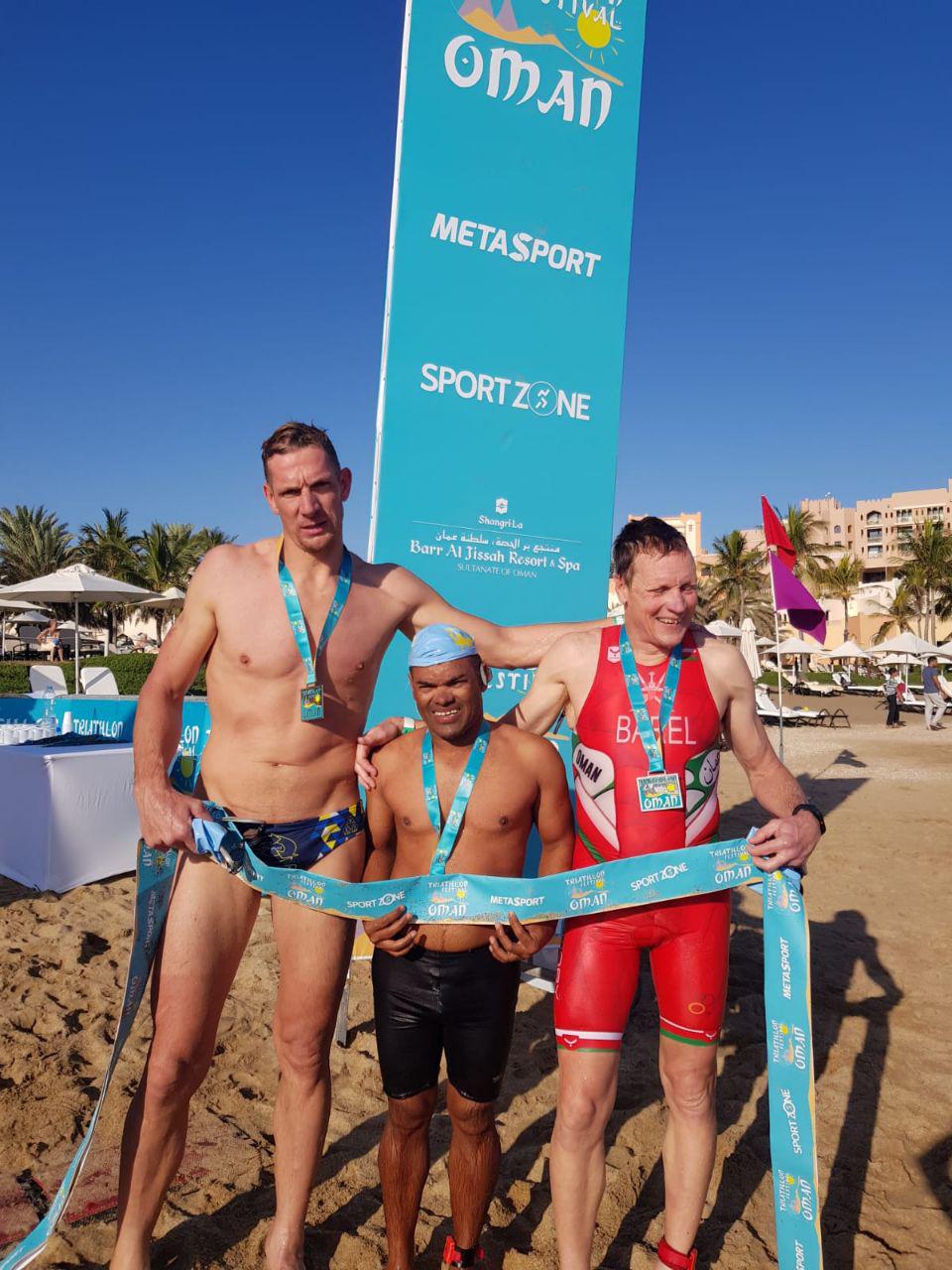 compatriot Corne Rosendaal swimming by his side for the duration.  The two approached the beach together, before Barel accelerated to hit the sand first and take the win by 2 seconds in a time of 16:33.  Omani local Babu Sekharan emerged just twelve seconds later to secure third position.
The rest of the morning was focused on the Kids and Youth.  The Crampin name is one to look out for in years to come, with siblings Maria and Angus taking home their respective age group titles. Maria held off Yekaterina Migunova in the female Youth Aquathlon by the tiniest of margins – just two seconds, the Ukraine national taking second, with Freya Mean taking third. In the boys Youth race, Faiz Makhloof took victory in 17:45, with Ali Adil just 10 seconds behind and Rihards Kagis coming third in 18:46.
Making Angus Crampin work hard for his victory in the boys Kids Aquathlon was Matej Lastovka, and Jude Derbyshire-Wilcox. Just 11 seconds separated the trio, with Lastovka taking second, and Derbyshire-Wilcox third. The girls Kids Aquathlon saw pocket rocket Elena Jan take the win.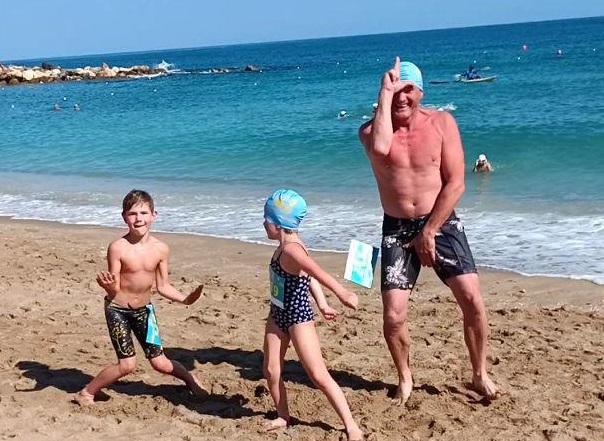 The hilarious Fun Duo Challenge rounded out the schedule, and combined with the entertaining awards lunch, yoga sessions, and party atmosphere it truly was a triathlon festival weekend.
Event partners MetaSport and Sport Zone were proud to bring this event to Oman, and a big thanks to our host the Shangri La Barr Al Jissah Resort, and all event partners and sponsors.
The event will be back in 2020! Watch this space. Meanwhile, keep fit! Sports Zone and MetaSport have plenty of events to keep you going.