16 Apr

Athlete Focus: Sridhar Venkataraman

See the rest of this weeks's newsletter  here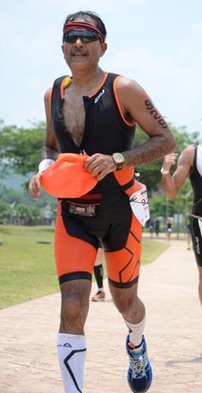 Sridhar came to MetaSport as a newbie to Triathlon under a year ago. His faultless work ethic saw him absorbing the training well and picking up new skills quickly. His 2nd place finish in his Age Group at his 70.3 debut in Putrajaya, is a great testament, not only to the hard work that he has put in, but also to his youthful curiosity and willingness to explore new challenges both in training and racing.
Congratulations Sridhar! And thank you for taking the time to share your journey with us.
Q: How did you feel crossing the line of your 1st Ironman 70.3 with such an impressive result?
Honestly, I just wanted to finish. Impressive result? If you say so! But I have larger promises to keep and many miles to go before I sleep!
Q: Briefly talk us through the race. High/low points during the race and any thoughts that stand out from the race.
I used to be intimidated by the swim. Not anymore! The run, which is my strongest point, was what was scary considering the hot conditions. But I felt good throughout and never had any low points. It was just 'flow' all along for six hours plus.
Waiting for swim start – No butterflies, just impatience. I couldn't wait for it to start!
Mid way though the bike – The push did not come and that was a bit disappointing for me.
Starting out on the run – Thanks to my coach I was used to listening to my body complaining and as advised by him, kept going and it just fell together. I did not try any theatrics, just kept going and kept getting hydrated.
Finishing – A great feeling knowing that I had finally done it!
Q: How did your training prepare you to stay strong mentally throughout the race?
If not for the training I would not have completed it for sure. Ironman 70.3 is not to be taken lightly. A mentally and physically strong person without training might still complete it but may not have enjoyed it during and after.
Q: What has your experience been of following a personalised training programme and having a personal coach?
Since working with Shem, I have realised what a difference a coach can make; especially if I want to get serious about the sport and more importantly if I want to enjoy my training. "The Method" basically achieves this goal by easing your body and mind gently yet firmly into the groove of training every day. The sessions are calibrated and tailor made for me with just the right bit of challenge. The workouts are never boring and they teach you to stay focused throughout instead of coasting along aimlessly.
The view from inside looking out is different from someone from the outside looking in – that's the coach. In the Indian Hindu tradition the hierarchy is as follows: the coach(guru), parents and only then, God. The coach has been there before you and can help you get there quicker, faster and safer.
Shem is a no – nonsense and inspiring coach and tells me when I am doing well, when I need to buck up and more importantly how to buck up. I have learnt that core sessions are invaluable and that nutrition and race tactics make all the difference.
Q: What role did the MetaSport squad sessions play in your race prep?
The sessions are just awesome! The atmosphere is electrifying and the camaraderie is uplifting and fun. You need a group to push you and make the training fun. I travel one hour out and one hour back just to attend the sessions. It makes a huge difference having coaches giving the right nudges at the right times.
Q: Can you briefly describe your weekly training schedule? How and why that's working for you?
Two hours a day [one hour in the morning and one in the evening]. I used to do slightly more than my coach asked me to – not necessarily a wise thing. It works for me because I have great support from my family, and no time commitments as both my kids are grown up and away. I have flexible work days as I am an entrepreneur and I set my own pace at work. I am very conscious and concerned about keeping work-life balance and staying disentangled from social encumbrances. Yeah… that's the mix that has worked
Q: Please share with us the 2 most important 'take home' messages that you have learnt about endurance training that everyone needs to hear.
Keep the dialog going between mind and body and be an honest moderator between the two. Let each have its say and get them into a working relationship. If you make the mistake of putting any one of them down, you are going to suffer!
Consistency is king.
Q: Any life lessons learnt on this journey so far?
Comfort zones are traps! You will keep getting ensnared in them and you have to fight yourself out.
Q: Think you can go faster?
I don't know. As of now I am doing my best, but I need to get stronger!!
Feeling inspired? Why don't you challenge yourself, your friends and family to Bintan Triathlon.