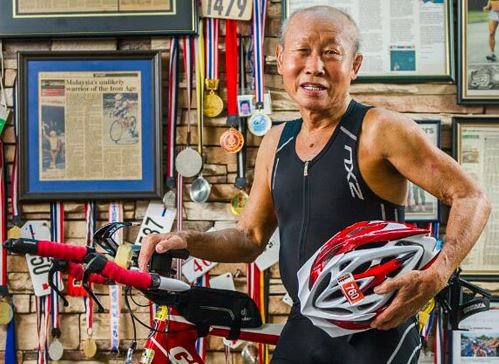 27 Jul

The Bumble Bee comes to IRONMAN 70.3 Bintan
He's 80 and a 16-time IRONMAN finisher. Meet him on the start line at IRONMAN 70.3 Bintan
Meet Sze Mun, at 80 years young he's showing no signs of slowing down! With a wicked sense of humour, fun-loving disposition and passion for beer, he is tackling his senior years with enthusiasm.
Along with a whole lot of inspiration, he's bringing copies of his book "The Bumble Bee in Me" to IRONMAN 70.3 Bintan to give to each podium finisher. And he's also saving one for the last finishers because as he says "they deserve a boost too".
For Sze Mun, life started again at 50. The trigger point was a medical examination that didn't give him hopes of a long life. Shaken and resolute to get healthy and fit, Mr Bumble Bee turned post-office happy hours into exercise time.  Four years down the road and many running races under his belt, Sze Mun completed his first Olympic Distance Triathlon. That was the beginning of the amazing journey to 16 IRONMAN races, hundreds of other triathlon events, a Marathon des Sables, and two National Geographic Action Asia Challenges. This inspiring gentleman teaches us that with unshakable determination – he is an Ox after all – NOTHING IS IMPOSSIBLE.
We wish him all the best, and hope the post-race Bintang quenches his thirst!