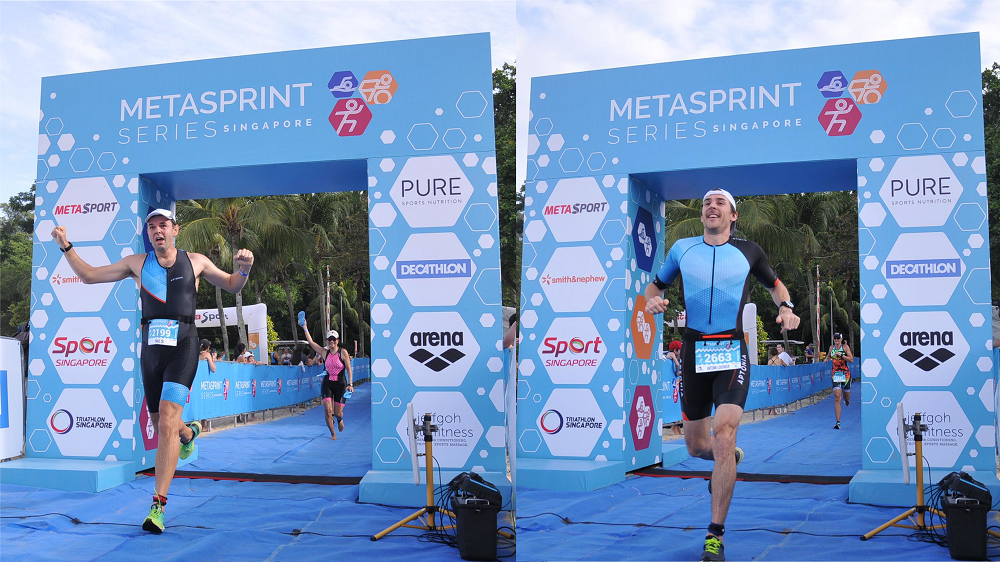 31 Mar

Decathlon's holistic contribuition to making sport accessible to all

Not only is Decathlon the Official Partner of the MetaSprint Series 2020, the Decathlon staff are leaving their mark in the races as well. Plenty of reasons to catch up with CEO, Nils Swolkien, and Offer & Supply Sport Leader, Antoine Loucheux.

Nils Swolkien, CEO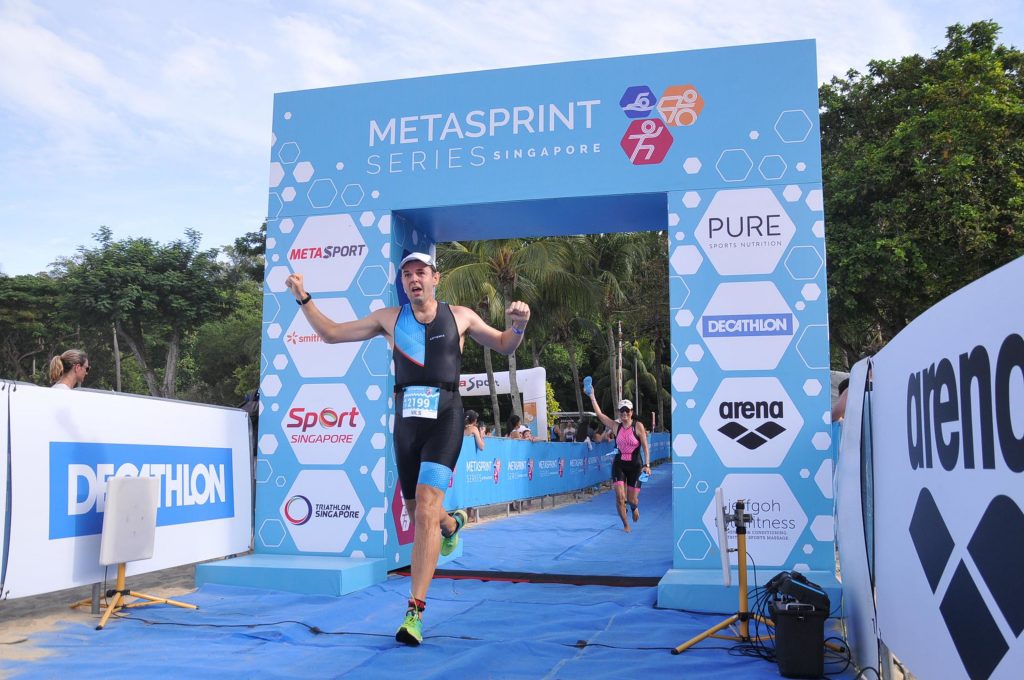 Q1: What made you decide for Decathlon to join forces with the MetaSprint Series? How does it fit in Decathlon's mission?
A1: I feel like Decathlon and the Metasprint Series are sharing the same objective: While Decathlon aims to make sport accessible to the Many with a range of more than 5000 models over 60 different sports, Metasprint Series offers to any sportsperson, from the beginner to the passionate, a great opportunity to get into triathlon and multisport races with a very accessible and family-friendly format. We were sure it would be a winning partnership for both parties.
Q2: There was an impressive number of participants at the Aquathlon and Duathlon wearing the distinct Decathlon trisuit. How did it feel?
A2: At Decathlon, we are all sports lovers, and helping a user to choose the best equipment for his coming sport session or race is already something that gives us a lot of satisfaction. Nevertheless, to see on the race day so many people wearing this iconic product designed and produced by our in-house Triathlon brand Aptonia, makes us feel proud as we fulfill our purpose to make triathlon accessible for the many. We do hope than more and more Singaporean will discover this beautiful sport.
 Q3: The Decathlon staff, including yourself, are competing in the Series too. Did you show who's the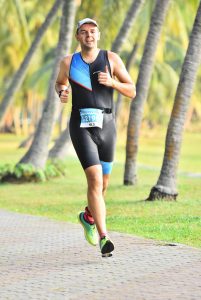 boss in the race? What's the competition like between colleagues?
A3: When it comes to sports practice there is no boss, there are just sport passionate competing but also encouraging each other. In fact, we met with Antoine who is now Decathlonian during MetaSport's Bintan triathlon 3 years ago. Sport passion brought him to join Decathlon team. Of course, we compete but we are at different levels. We also share a lot of tips on how to race better. What is beautiful about triathlon is that you compete with yourself first to push your limits. 
Q4: How did you and your team prepare for the event? Any big learnings?
A4: Well I prepare when I have time, so not enough! Consistency is the key element if you wish to improve. So it means no day is a free day from practice. Luckily around Decathlon Singapore Lab, we have great practice ground for all 3 disciplines of Triathlon with Sport SG swimming pool, park connector for running and cycling so no excuses!
Q5: You lead by example not only at work but at home: your son and daughter also took part in the Kids and Youth distance. What did they (and you) like most about the event?
A5: Yes indeed my two older kids took up the challenge (2 younger are still to go). They loved the atmosphere of the event. They are both quite competitive and I know they gave their best. On my side, I always tell them that they are already winners when they participate! They both wish to continue with the next leg of the series which is very good news!
______
Antoine Loucheux, Offer & Supply Sport Leader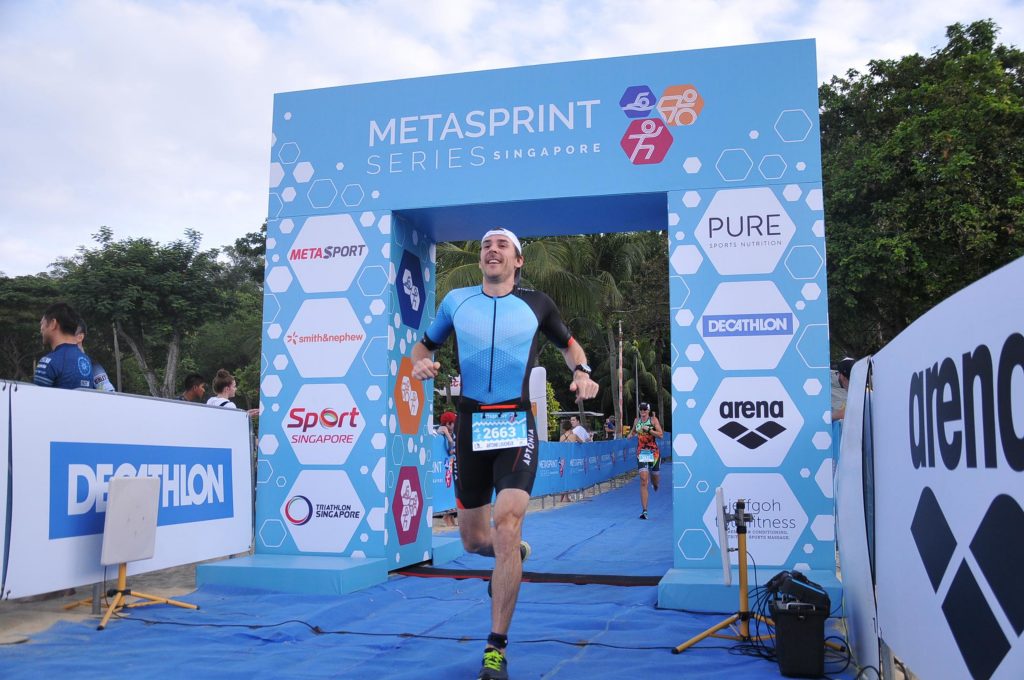 Q1: You are a competent and experienced triathlete. What excites you about the Decathlon triathlon sports product range?
A1: At Decathlon, because we are passionate about our sport, we are all involved in the design and the development of our products by sharing user's feedback and market needs with the conception teams. Thus, I know when a new model arrives in store, that it will always better answer my needs as a triathlete. And also, because I want to share my love for triathlon with others, I'm really proud to offer such affordable prices for all the equipment required to get started.
Q2: You have taken part in many MetaSport events. Why did you pick the MetaSprint Series for a partnership opportunity?
A2: Metasprint Series, thanks to its short and family-friendly format, is the perfect event to get into multisport races. That's also where most people in Singapore will start their triathlon journey before moving to longer distances such as Olympic Triathlon. It was really important for me and for DECATHLON to accompany all these people for this first step and to show that Triathlon is actually simpler than you think! Our dream is to be their best partner to cross the finish line with the smile!
Q3: Decathlon is a one-stop shop for triathlon equipment and services for the (beginner and enthusiast) triathlete. What are the most popular products and services that you recommend most?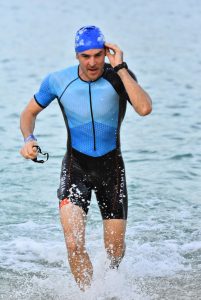 A3: When you think triathlon, you always think about the trisuit, its most iconic product, and for a reason: it's a breathable, comfortable and practical apparel that you will wear all along your triathlon race or training. But on top of triathlon equipment, our in-house triathlon brand APTONIA, develops also a full range of recovery product, hydration, nutrition and sun protection. If you want to increase safely your training load and stay fit on the long run, you'd better stay hydrated with electrolytes drinks and do self-massage after your session. We also have vibrating massage balls and foam roller to make your recovery effortless.
Q4: Your young children also took part in the Fun and Kids races, and you initiated the great balance bike idea for the very young kids. Why do you think Triathlon is a good sport for kids?
A4: Triathlon seems to be an individual sport, but it's actually a lot of sharing. During the race itself, especially for events like Metasprint Series, you always see a lot of friendship between participants and many family members come to support. Involving even more the family, especially the kids, by giving them the opportunity to take part is a great way to strengthen the links and help them understand better our passion. It's also of course a fun way for the youngest to do sport and challenge themselves!
Q5: Sadly we saw you miss your race start at the duathlon – work came first. How do you juggle your own ambitions as a triathlete and representing your company at the MetaSprint Series?
A5: I'm really lucky to work for Decathlon, because it's a sport company and I have the chance to take care of triathlon. We have a lot of freedom, we work with sport passionates and we can manage our time to train. But of course we need to be responsible! On Duathlon race day, I was needed to serve the participants who had forgotten some essential gears or accessories to start their race. No regret at all, I'll take the start for the next race!