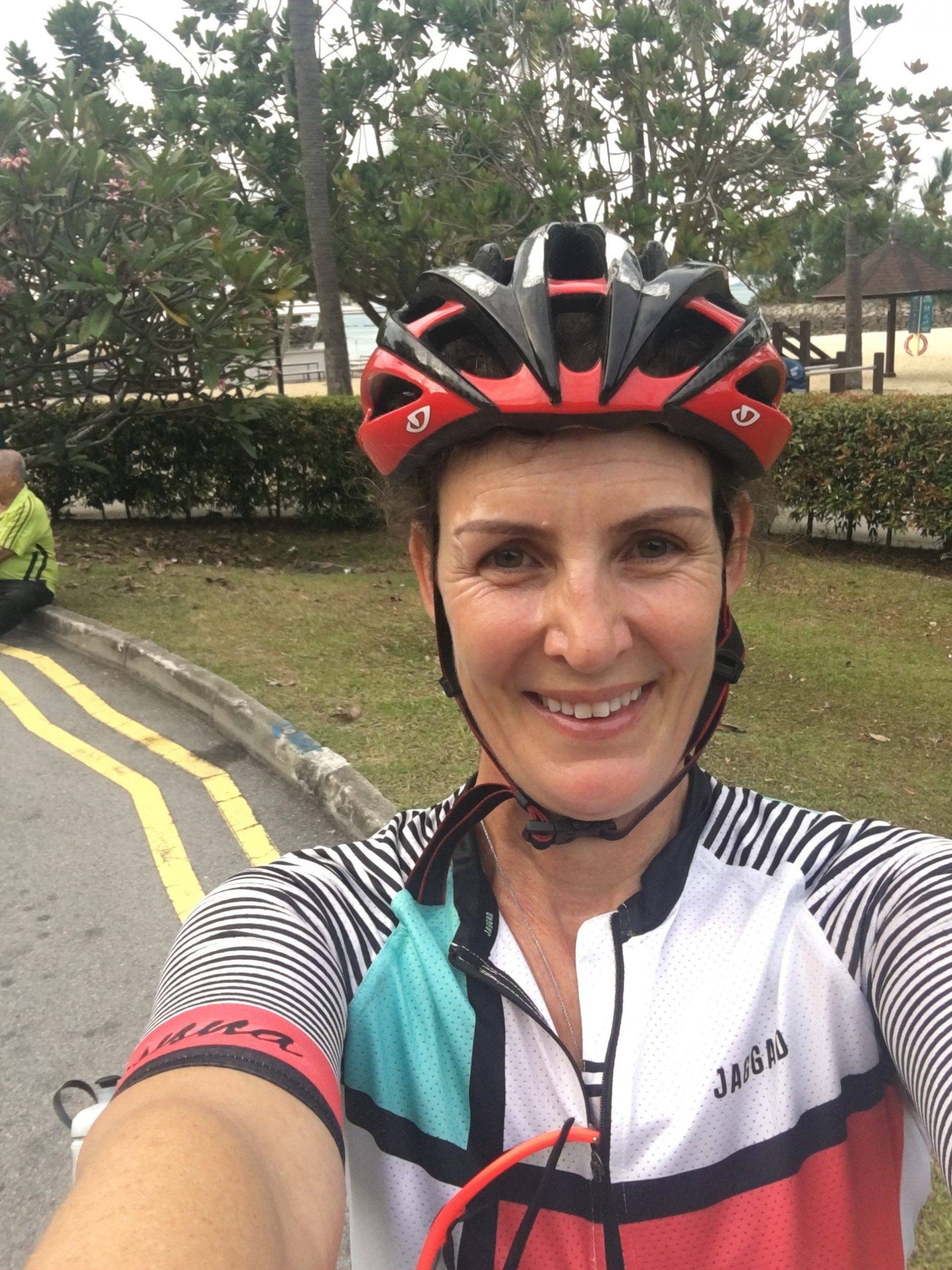 28 Sep

Donna, our star volunteer

DONNA OUR STAR VOLUNTEER

Donna is a refreshing bundle of energy at our events, full of smiles and positivity.  We took the time to chat to hear and find out why she gives up her valuable time to help us, and some funny anecdotes from out in the field.

Why did you join the MetaSport race day team?

After competing in many, many triathlon's I feel like it's time to give back to the sport I love.

What roles have you had at MetaSport events, and which is your favourite?

Draft marshal and transition manager.  Transition Manager is the best – it's right in the action, being on the back of a bike for hours gives you a numb bum!

So you seem to know EVERYONE in the triathlon world in Singapore. How is that so?

Ha ha ha I've been doing this a long time and lived here for 20 years!  I like to chat on the start line, on the course, in transition, and I'm the Triathlon Director for ANZA cycling so lots of

socialising can be done!

You're a busy Mum with a full time job, why do you choose to volunteer on top of your already

packed schedule?

I'd hate to be bored!!! I also love being a part of the action (and I don't have to race!)

It seems like you are always training and competing in races. What motivates you?

Honestly, I train so I can drink wine and eat chocolate!

Has your perspective changed now when you race in events as a result of working at them?

I've learnt that volunteers don't sleep! They are there before the 1st athlete and after the last one…

Don't ever underestimate how exhausting volunteering is!

Are there any specific people you've met through volunteering that you have fond memories of?

I have so many! My favourites are:
At the MetaSprint Duathlon a young boy came in crying off the bike, he said "I'm so sorry I tried but it was too hard so I took a short cut". I said you "should be proud, do you want to still run?" He said "what will my mum say?" I said "she will be so proud" and with that he grinned so much and ran super-fast.
In IRONMAN 70.3 Bintan I met a lovely guy from Arizona doing it on a tandem mountain bike, in memory of his Dad. It proved too tough on the day but he came and found me and said "thanks for your help, the bike course got me but I'll see you next year with the new bike I'm buying"
From the nervous Pro doing her 1st race, the nervous 1st timer, the seasoned athlete you
see race after race, the swimmer who made the cut-off by seconds and comes finds you after to tell you he finished – it's amazing!!
What's the craziest thing you've seen while working at an event?
A man had a bucket, slippers and a bathrobe in transition! It was a pink robe…
What are three things you can't survive without as a volunteer at a MetaSport event?
Water, diet coke and my sense of humour
Did you really walk 30kms one day at an event?
No!! I walked 32km at the MetaSprint Series Duathlon and 44km at IRONMAN 70.3 Bintan, my legs were more tired than if I raced!
You seem so chirpy and bubbly all the time, are you the same at 4:00am when you arrive at a race?
Yes!! It's very irritating I know! But it helps me get through the day J.
Thanks Donna, for all your hard work. See you at the next race!