30 Jan

First Sprint Triathlon

Firstly – Congratulations! You have made the decision to do your first Sprint Triathlon. Be warned – they can be a lot of fun and very addictive!  Triathlon is very different to many other sports because it does not just involve one discipline but three! So there are some things you need think about leading into race day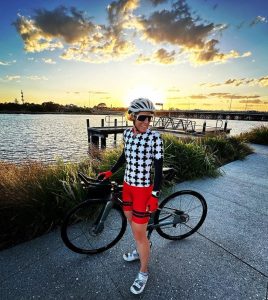 I know it is your first Triathlon but you will want to:
Try and avoid doing anything new "to you" on race day! 

That means during your training include some sessions in which you wear the same clothes / Tri Suit you are going to wear.

Know what you are going to swim in? Will it be the same as what you wear on the bike and run?

Goggles so you can see where you are going, the same as what you practice in

What will be in your bottle on your bike? Water? Or an Electrolyte Drink? Have you drank it before? Try it before you use it. 🙂

Shoes and socks 
 TRANSITIONS
Practice Your Transitions

These include swim to Bike AND Bike To Run.

When you exit the water and find your bike in transition it is compulsory to have your helmet on before removing your bike from the Bike Rack.

Also Remember where your bike is!

We always recommend walking through transitions so you know where to find your bike

When you come out of the swim, how will you get to your bike? And again where to re-rack your bike after your cycle leg. 

When you return from your cycle you must rack your bike before removing or undoing your helmet. 

Will you wear a hat? Sunglasses? Have them laid out and ready to put on
SWIM
If you are nervous about the swim, think about placing yourself accordingly at the start 

So NOT in the middle or at the Front 

Position yourself to the back or the side so you can enter the water at your own pace and avoid getting mixed up with the masses.  

We also recommend  doing a warm up if that is an option for you. A short swim warm up, helps calm the nerves and gets the body ready for exercise and reduces the risk of anxiety. 

Use landmarks to remember where your bike / gear is in transition 
KNOWING THE RACE
Read the rules / Pre Race briefing and if there is something you don't understand then ask! 

Know where you are going to go in all disciplines: swim / bike and run. It will reduce your stress and make for a seamless race

Pace yourself – especially on the run! Use the first 2km to build into the run – see how you feel and either aim to maintain it or if you feel good push a little harder 
GEAR
Equipment – make sure you have the basics all organised and pre-organised

Bike – Is it in safe working order? If in doubt, have a local bike shop give it a once over so it's ready for race day.

Race Kit – and you have practiced wearing it swimming, biking and running 

Bike, Helmet, Shoes, Sunglasses, Nutrition, (there are plenty of triathlon lists about and we even think Donna has one)

Run Shoe, hat
Most of all, enjoy yourself. Yes, there are quite a few things mentioned above. But if you go through it all prior to race day. There will be no surprises and you'll have a great race with zero surprises. Leaving you with just enjoyment and Finish Line happiness. 
Kate Bevilaqua
Professional Triathlete
Ultraman World Champion 2016
3 x Ironman and Ultraman Champion
GKEndurance Coach