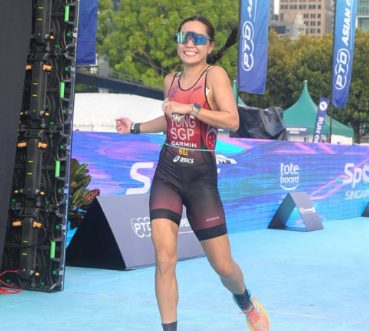 30 Aug

From Duathlon to Triathlon: Exploring the Journey with Team Singapore Triathlete, Yong Man Yun

Embark on an inspiring journey as we delve into the exhilarating world of Yong Man Yun, a Team Singapore triathlete. Join us in reliving her triumphant moments at the recent PTO Duathlon and her unwavering commitment towards the 2024 PTO Triathlon event. From setting goals to overcoming challenges, Yun's narrative emerges as a testament to the sheer dedication and passion that drive success in the world of endurance sports.

Through this interview, we gain a unique insight into how these endurance events have not only impacted her athletic prowess but also enriched her personal growth and well-being.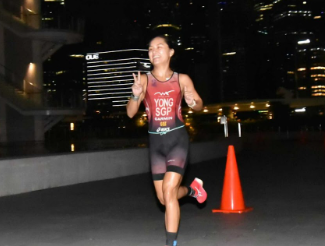 Congratulations on completing the PTO Duathlon this year! Can you share your experience and feelings about participating in the event? Were there any specific goals you had in mind for PTO?
YMY: Thank you! I was feeling pretty excited leading up to the race as it is the first time PTO is held in Singapore. Route was refreshing as we got to cycle on routes that we don't usually race on! I knew the course wouldn't be easy so I told myself to enjoy the race and not to blow myself up, especially on the bike course. 
How did you prepare yourself physically and mentally for the Duathlon? Could you tell us about your training routine and strategies?
YMY: My trainings had to be altered with longer rides, runs and brick sessions. To me, the training for the mental part is concurrent with the physical ones. I make sure I complete all my training sessions even when I don't have the legs for the day, because that is when the mental training comes in – we will feel bad during race! I train daily, sometimes twice a day. I swim, bike and run 3-4 times a week for all disciplines. 
As someone who's already completed the Duathlon, what aspects of the event did you find most challenging and most rewarding?
YMY: The bike course was the most challenging for sure! Completing the race is definitely the most rewarding part.
You mentioned your interest in participating in the PTO Triathlon event next year. What inspired you to set your sights on this new challenge?
YMY: Swimming in the Marina Bay would be nice.
What do you think will be the biggest differences between the Duathlon and the Triathlon events for you as an athlete?
YMY: Pretty much the same to me. Duathlon is harder because it is all legs!!
Triathlon involves three disciplines – swimming, cycling, and running. Do you have a favorite among these, or do you enjoy the diversity they offer?
YMY: I don't really have a favourite because each of these brings me different forms of enjoyment.
As a Singapore athlete, how do you feel about contributing to the local sports scene and inspiring others to take up these challenging events?
YMY: I love seeing athletes of all abilities and ages staying active! I think it is important for us to keep sane by staying active, no matter what level we are at – it is about our personal growth and our growth is never the same as someone else's. I have always been inspired by athletes who continue to keep fit/fast despite their age. These people don't find excuses and take charge of their own well-being! So I hope to inspire others the same way, especially the ladies! We need more girls in sport.
What advice would you give to aspiring athletes who are considering entering the world of Duathlon or Triathlon for the first time?
YMY: Have a reliable and experienced group/coach/friend to guide you, to teach you how to ride on the roads, train for transitions, train with nutrition, etc. Like kids, we want to learn something new the proper way! Most importantly, don't be scared to experience or try as this is also about learning about yourself. 
Finally, can you share your thoughts on how participating in these endurance events has impacted your personal growth and overall well-being?
YMY: Being outside running, riding or swimming is a privilege my body gives me. I aim to be better than my best everytime I go out there and through the process, somehow growth happens. Overall well-being? Have you seen anyone sad while riding or running on the roads? Haha. Sports keeps me sane and makes me feel alive!