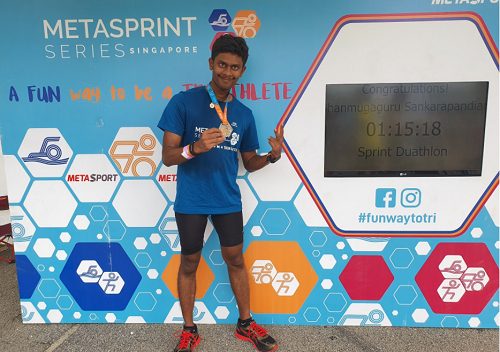 04 Feb

FROM RUNNER TO ROOKIE OF THE YEAR

The first things people do upon arrival in Singapore usually involve meeting their workmates, checking out the local shopping mall, or a heading to a hawker market. Not so for MetaMate Guru Sakarapandian. He headed straight for the MetaSport office and became a MetaSport Training member.  Talk about priorities!

Last week he was named MetaSport Training's "Rookie of the Year" after a 12-month period where he developed from a triathlon newbie who couldn't swim, to a rounded athlete who can cover 1.5km in the pool and who is ready to tackle his first triathlon in 2021.

We took a moment to chat to Guru about his journey.


MetaSport: Why did you join MetaSport?

Guru S.: My motivation for joining MetaSport was to get proper training in all the three disciplines of Triathlon. I had signed up to an olympic-distance triathlon event which was supposed to take place in April last year, and back then I didn't even know how to swim freestyle.
An interesting fact is that I joined MetaSport just a day after I landed in Singapore, even before I started my job!

MS: What was your background in sport before joining MetaSport Training?

G.S: In the triathlon field, my background was null before joining MetaSport. I didn't know how to swim freestyle before and I didn't own a road bike until last February. I had only run a couple of 5km and 10km fun races back in India.

MS: What were your fitness goals for 2020?

G.S: Back at the start of 2020 I didn't know much about triathlon as a sport, but since I am ambitious I set IRONMAN 70.3 as my 2020 goal (perhaps a bit too ambitious!). Given that most of the races were cancelled I couldn't give it a go at any IRONMAN 70.3 events, but in hindsight, I don't think I couldn't have finished a race of this distance last year.

MS: Did you achieve your goals, and how did MetaSport Training help?

G.S: Though I couldn't have finished a half IRONMAN, I did make a lot of progress in all three disciplines. Two highlights I can think of are; going for a 100 mile ride around the whole outer circumference of Singapore on my 25th birthday (I did it all alone!), and my first session with MetaSport , a swim with coach Lockie at Farrer Park. Back then, I couldn't even swim a 25m stretch, but now I can make 1km in roughly 35 mins.
I also competed in the MetaSprint Series Duathlon in March 2020, my first multisport race.

Then Circuit Breaker kicked in and thanks to all the MetaSport coaches, I was able to keep training during this lockdown period because they shared training plans for us to do virtually which really helped.

MS: What has been the best part of training with the MetaSport squad?

G.S: The people and coaches here are so amazing, I get very motivated when I get to train with ultra runners and world championship participants. It helps me to push my limits. My swim sessions with coach Jade were some of the most remarkable ones, in fact, this was when I started to swim 50m in a single stretch.

MS: Do you have any advice for people reading your article who are thinking of joining MetaSport Training?

G.S: MetaSport is the first ever triathlon club I have joined and my time with MetaSport so far has been awesome. To anyone who is thinking of joining MetaSport, don't give it a second thought. I highly recommend it!