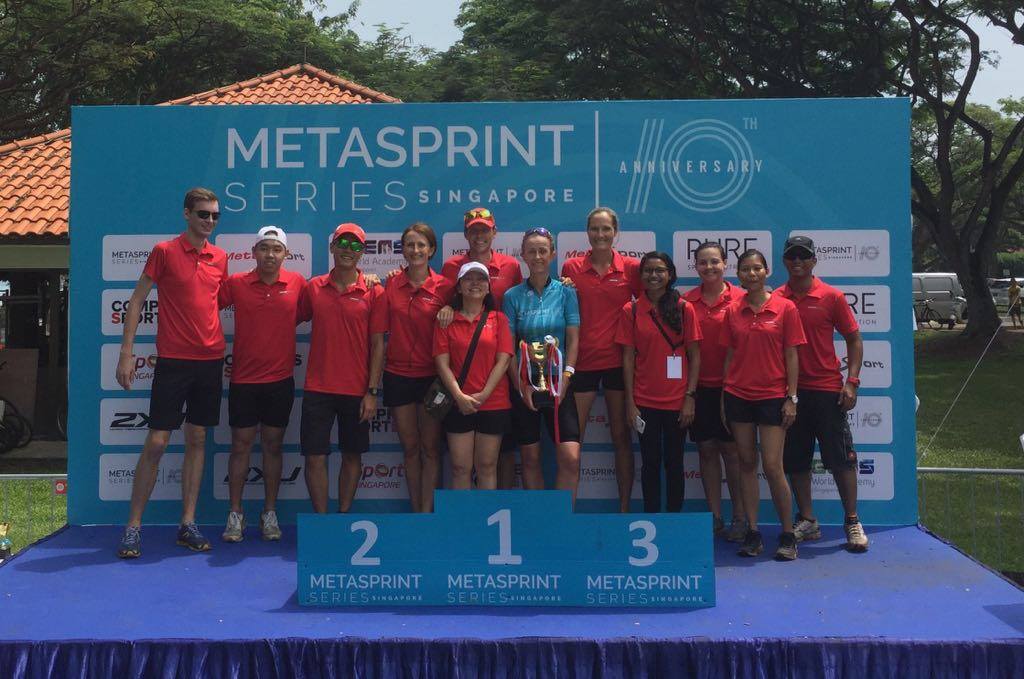 04 May

Jess McMorris Feature
Jess McMorris

Many of you will have crossed paths with Jess McMorris at some point in the past year. Jess was MetaSport's customer service officer, answering most of your questions and concerns and trying to find solutions for any issues that you may have raised. She is quite an avid athlete as well, which makes her an interesting interview subject having seen triathlon races from both the athlete's and organiser's perspective.
First of all congratulations on your recent MetaSprint Triathlon win! When did your triathlon journey start?
Completing a triathlon ended up on my New Year's resolution list for 2008 after having watched a corporate triathlon. I was reasonably fit through regular gym and classes, but actually couldn't do front crawl, hadn't ridden a bike since childhood and only started jogging a year earlier. So at age 43 I dipped my toe in the water for the first time at the East Grinstead Try-a-Tri in the UK. I took over 50 minutes for a mini distance (200m/14k/2k) and I loved it! The race organisers and fellow participants were so encouraging and my family and friends were really great. They couldn't believe I had completed a triathlon…I had the bug!
How do you manage to combine training with your work and family responsibilities?
The majority of my training is done solo so I can fit the training around work and family. I train 6 days a week across the disciplines and incorporate strength sessions which are super important as I am getting older. Training has over the years become habit and routine, a very natural part of my day.
Since moving away from the UK I changed career (I was an Optician for 20 years) and became a personal trainer, pursuing my love of health and fitness. I also have since become a certified triathlon coach and IRONMAN coach. The knowledge learned and experience gained have helped me to structure my own training.
The past months it seems like you take part in a race every other week. What motivates you?
Yes, good question. I often ask myself the same at the start line!
I love the sense of achievement when I know I have worked hard in a race (whatever the outcome). I feel fortunate to be healthy and to have the opportunity to keep my body fit. Why waste that? And I do it to make my family (of 4 + dog) proud.
What is your biggest achievement?
Keeping going! I feel I have had some amazing experiences – from completing my very first mile running continuously (in 2006) to finishing an IRONMAN 70.3 (in 2014). However, I am probably most proud that I keep going. I would like to continue in this sport for as long as I can and am constantly inspired by stories of older athletes and their achievements.
You joined MetaSport wearing a neck brace. What happened?
On a training ride I carelessly flew off my bike and ended up in hospital for a week with a few broken bones in my neck. It was particularly disappointing, as I had qualified for the Sprint Duathlon World Championships for Team GB. My race in GB kit was off the cards and instead I stayed home in a neck brace for a few months.
Why did you join MetaSport?
I joined in March 2016 and was really excited to be working with a team of like-minded people with a passion for the sport who provide great races. (I was lucky to race a few of them before I joined the MetaSport team.) I knew I had found an undeniably professional and caring company when I read MetaSport's mission; to have a positive impact on others' lives, pay attention to detail, be fair, have the highest safety standards, provide a great environment and venue, encourage and inspire athletes of all levels to do their best. (place link instead).
Has your perspective changed when you take part in events?
As a participant in many races I have always been appreciative of the volunteers who cheer, the marshals who guide and the organisers who manage. Now I have been immersed fully in race organisation and management I realise how many months and years of perfecting the experience goes into providing a morning of racing.
My role as customer service executive gave me the privilege to be the main point of contact to the participants. Such a broad spectrum of people participating in the same event with vastly different goals; the first timers with many nervous questions to those competitive athletes anxious for results. I have loved being part of the journey of all those athletes and will sorely miss this on my return to Europe in June.
I know I have been at both ends of this spectrum in the last 9 years and as I raced the MetaSprint Triathlon as an experienced triathlete I felt a responsibility to be supportive to others, wish each other luck before the swim start, be considerate on the bike, smile at the volunteers and marshals (hard when you are grimacing) and congratulate fellow finishers. For me it makes for a much more enjoyable race!
What is your favourite MetaSport event?
If I have to choose that would be Ironman 70.3 Bintan. I was really impressed with the scale and setup of the event. You could feel the anticipation among participants. The event carries more prestige with the Ironman brand and it being a qualifier for the world championships.
Are there any specific people or events that you have fond memories of?
I have met so many nice people along the way that is hard to pick one. I was really taken in by this blind athlete Stuart and his guide Jacob that took part in our Duathlon events. They were such kind and patient people, taking everything in their stride despite the obvious challenges of navigating a busy event venue and course.
I will also not forget the Super Sprint Team at the Bintan Triathlon that had not understood that they were each to complete a swim, bike and run, instead of only one discipline. They were completely unprepared for it, but willing to take on the challenge. Fellow athletes rallied around them and lend them their bikes and shoes. The sense of achievement for finishing the race was enormous.
In a few weeks you will be leaving Singapore. What will you miss most from Singapore's sport scene?
I really enjoyed being able to train and race 12 months a year. And the races here are a little bit less competitive than in Europe, so I actually made it to the podium on several occasions.
And finally, what Singapore food will you be carrying in your suitcase to Switzerland (if you could)?
Chilli oil! I love spicy food. Chilli oil ends up in most of my meals, except breakfast, nowadays.