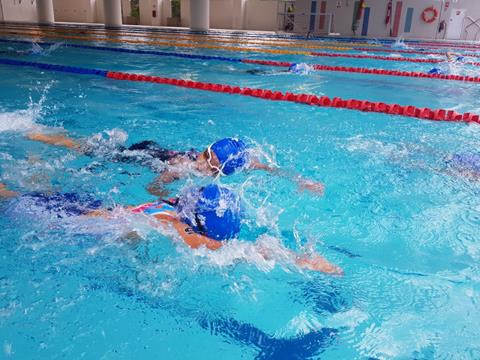 13 Jun

Kids and youth talent on display at the GEMS Super Sprint Triathlon

MetaSport organised the GEMS Super Sprint Triathlon for the second year in a row, offering the fastest children from the MetaSprint Series an opportunity to show their mettle once more in a short and fast 'Super Sprint' format.
The event, sponsored by GEMS World Academy, is an initiative to support talented youth and kids triathletes, in line with the newly launched GEMS Triathlon Academy.

Under the watchful eye of multiple Triathlon World Champion, Emma Carney, 35 athletes competed in two races: a triathlon and a bike-swim-run.
For race 2, athletes were sent off with handicaps based on race 1. The big chase was on as the fastest athletes started last and had to make up for time lost.
With some tactical nous (speed alone was not enough) and lots of determination, the following athletes were crowned GEMS Super Sprint Champions.

Female 8-9 Miri Fujimoto                        Male 8-9 Khim Zern Ling
Female 10-11 Mirthe Gaytant              Male 10-11 Oliver Mason
Female 12-13 Lim Wan Ting                  Male 12-13 Kobe Gaytant
Female 14-15 Amelie Dura                    Male 14-15 Romuo Perthuis

Congratulations to all athletes for the great performances and GEMS World Academy for their support, including their top-end facilities.