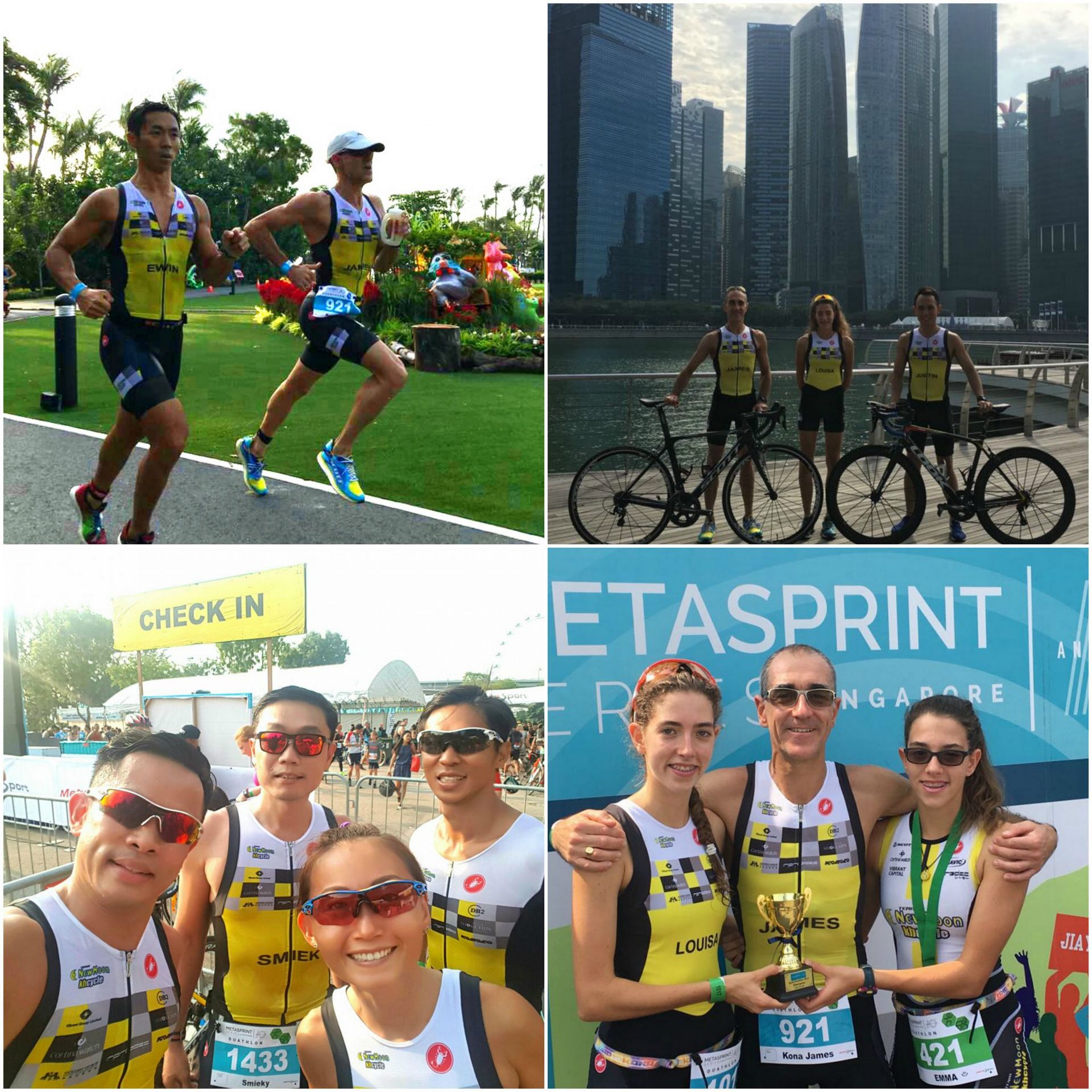 25 Oct

New Moon KHcycle – The club consisting of members from all walks of life! 

by: James Tham; Sean Tan; Wayne Goh and Alexius Chua
How and when did it all start – New Moon Khcycle?

The founding members of the club was established in 2010 between a group of cycling enthusiasts (Edmund, David Tay, Ken Khua and myself) and business owners (Wayne from New Moon and Smiek from Kian Hong Cycle). Coincidentally, we were all looking to form a tri-sport team/club at the same time. The initial core group was formed consisting of founding members, our old cycling kakis and friends. The team slowly grew stronger with a healthy balance of active and competitive enthusiasts.
Where are you all from?

The team members come from all walks of life. Some of the members started off from University, students forming half the team and the other half who are working adults. As we moved along, majority of team are now juggling a full time career as well as a very healthy lifestyle.
Why "New Moon Khcycle"? What's in the name?

The founding team core includes 2 business owners, who are active and supportive of the competitive and sporting community. Hence the team name came about with New Moon and KHcycle being the major sponsors.
New Moon is a premium and renowned brand providing a diverse range of products to discerning customers globally. The brand started in 1959, with its famous Abalone and a couple of products, steadily establishing into a household stable with more than 100 products ranging from Abalone, Rice, Sauces, Ready to eat Paste, Frozen products, Essence of Chicken, health and beauty. New Moon is Singapore's best-selling abalone brand the past 17 years, and the brand's products are distributed in Asia Pacific markets such as China, Malaysia, Indonesia and Vietnam. New Moon has been actively supporting community and sporting events such as Meta Sprint in its early days, OCBC Cycle in 2015, 2016 and is pleased to continue supporting the local sporting community.
Kian Hong Cycle is the leading bicycle distributors in South East Asia, with its history going back to 1946, the family-based business was built from scratch with the offer of basic bicycle servicing and sale of bicycles and parts. In the 1960s, business grew rapidly as a thriving cycling community was born. The company gradually established into a wholesale business representing Legnano, the Ferrari of the cycling world at that time, and Campagnolo components, which it still distributes today. Today, KH cycle has expanded into a 15,900 sqft giant showcasing Scott bikes and a multitude of bike parts and accessories.
Some of the other supporting sponsors of the club include Vibrant Group Limited, DB2, Cortina Watch, Emporium SHOKUHIN, Golden Horse Funds Management, Inprodec, Komoco Motors, Continental, Campagnolo, Bianchi, LOOK, Scott, A&G Group, AirVenture Conditioning, Alliance Human Resources, Ardmore Orthopaedic, Calvin Chan Aesthetics, Eurospeed, Far East Group Limited, Fidgets, IB, ICH, Meng Heng, OCBC Bank, Roland Shoulder, GreaThai, Specialist Dental Group and Teho Engineering.
What is your secret to growing your club?

We are not a club filled with professional athletes. Everyone in the team juggles a full-time career, family and sports. We understand that and allow each athlete the flexibility to train on their own or amongst a small group. Everyone has different career and family commitments, and this takes the pressure off everyone, without the need to commit to fixed training schedules.
How many teams do you hope to enter for MetaSprint Series 2018?

With a large group of active and competitive members, we do not limit ourselves. We will try to put together as many teams as possible for the series.
Who do you think are more competitive – Men or Women?

They are equally competitive! Both our male and female triathletes have taken part in Ironman globally, with many podium finishes. We also have a female national team cyclist with us.
What expectations do you have of your teams in MetaSprint Series?

We are blessed with highly responsible and competitive sporting enthusiasts, who have high expectations of themselves; this great team spirit allows us to build strong team camaraderie.
What type of club is it? Cycling? Triathlon? Combination?

We are a diverse group of tri-athletes; everyone has different strengths, complementing the team's interests in different competitive events.
Do you have other events that you take part in as a team?

Very recently we took part in the OCBC Cycle Challenge where we wrote on stationary bikes trying to out-do the other teams by clocking the most miles. That was a great team event.
Any advice to other clubs that are wanting to grow and have such a tight team spirit like your club?

Be clear of your club's objectives and goals. It is almost impossible to run a professional club in Singapore but it is important to understand the reasons why people come together and stay together. Sharing a common passion is key to building a successful team with strong camaraderie.