27 May

Your all-in-one guide to race recovery and staying injury-free

Our recovery partner jeffgohtotalfitness has assisted many of our participants upon crossing the finish line of a MetaSport event by giving them a well-earned massage and aiding them in their recovery. With that in mind, we spoke to Jeff Goh (Personal Trainer & Sports Massage Therapist at jeffgohtotalfitness) to learn a bit more about recovery and how to stay injury-free.

MetaSport (MS): What should athletes do pre- and post-training to prevent injury?

Jeff Goh (Jeff): As with all sports, sufficient preparation is always required. By preparation, I am referring to the following:
Training up with a sound plan (i.e. build up one's stamina, strength, flexibility gradually). You do not want to shock the body by being just a weekend exercise warrior or just before marathon fanatic.

Complement your training regime with sports massages from the time you start training for a sports activity to post sports activity. This is so that your muscles can be prepared for the increase in intensity up to your event and to aid recovery post activity.

Good nutrition and sufficient rest should not be forgotten.
(MS): What should race participants do after a race to recover faster?
(Jeff): After the race, walk around for around 10 minutes to keep the blood flowing before spending another 10 minutes for stretching. Drink water and eat something light that includes carbohydrates, protein and some fat about 30 minutes after the race to replenish your glycogen storage.
Rest for 3 to 7 days and schedule a sports massage before resuming training to reduce chances of injuries. Your body will thank you for it.
(MS): What are the benefits of having sport massage and how often should one go for a sport massage?
(Jeff): Sports massage is an effective treatment that can heal old injuries and prevent new ones. It can also enhance sports performance for both athletes and recreational sportsman.
While athletes may benefit more from a sports massage as it minimises fatigue, reduces risk of injuries and improve sports performance by increasing flexibility and range of motion, it can also benefit anyone experiencing difficulty in movement and any person who is looking to do better in recreational sports.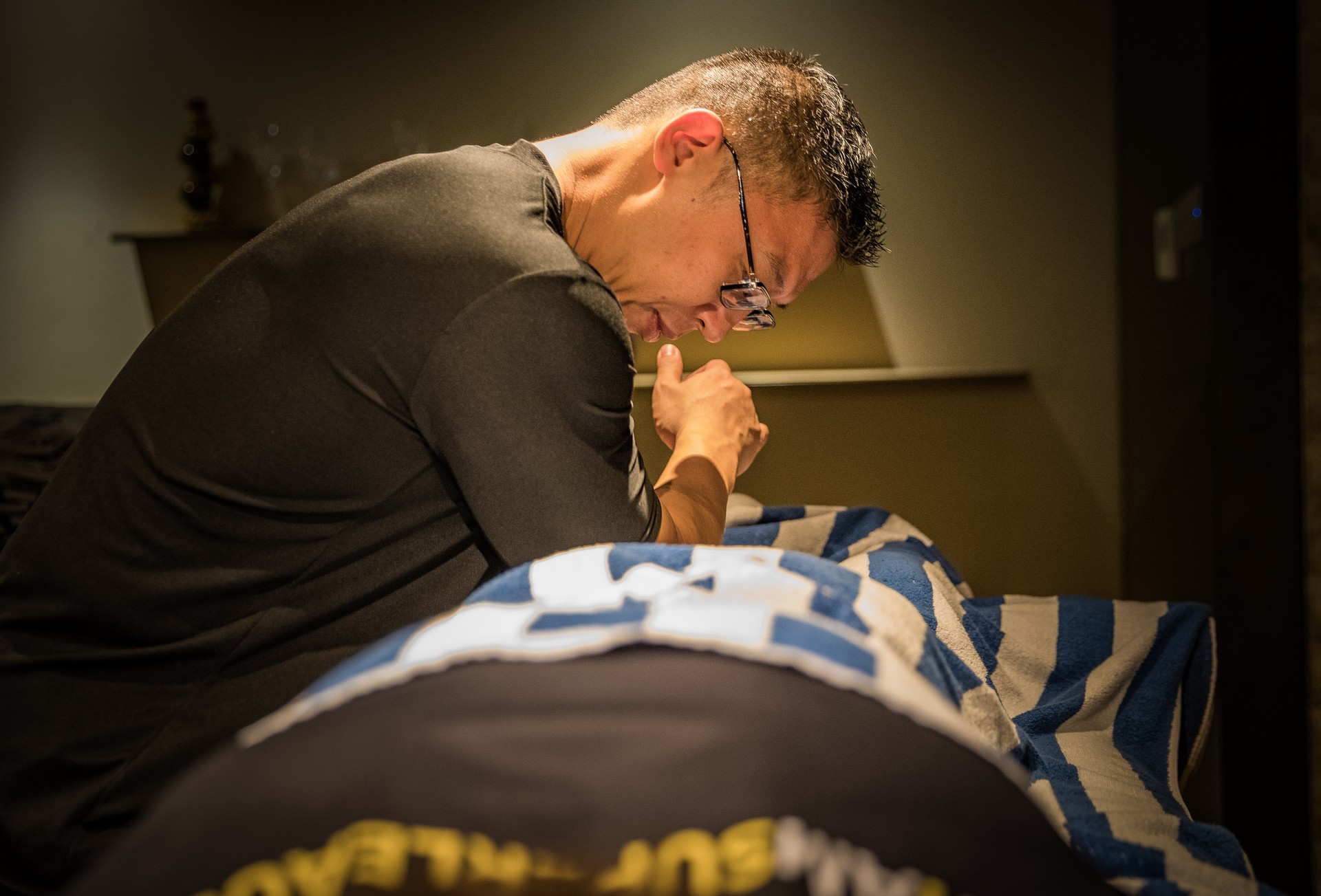 Many opt for sports massage either pre or post competition to prepare the body for the sporting event or relieve post workout muscle soreness. As a guide, schedule a sports massage 1 week before the sports event so you have sufficient time to recover from any soreness, and 3 to 7 days after the sports event, so that you wouldn't be overly sore. For non-competition related treatment, you may schedule whenever your muscle require relief.
(MS): What are the common misconceptions about sport massage?  (such as who should do, when to do, how will it help etc)
(Jeff): It is a common misconception that sports massage is only for athletes but that is not necessarily true. You do not have to be a sportsman to benefit from the treatment and sports massage is for everyone who wishes to prevent injuries, prepare your body, perform an activity and recover from injuries.
Sports massage focuses on muscle systems used in daily and athletic activities, combining stimulation of pressure points and neuromuscular techniques to assist healing and enhance power, endurance and flexibility.
Hence the benefit is not only limited to the body but there are also psychological benefits such as an increase in self-esteem and self-perception resulting from better physical performance.
(MS): You have been MetaSport events' recovery partner in Singapore since 2018.  Since then, what has your experience been like with our participants?
(Jeff): MetaSport is a major contributor to our local race scene and a reliable sports event organiser, whom I am proud to be partnering.
Since our first partnership, I have received feedback from MetaSport event participants that they feel and perform better with sport massages being included as part of their training regime.