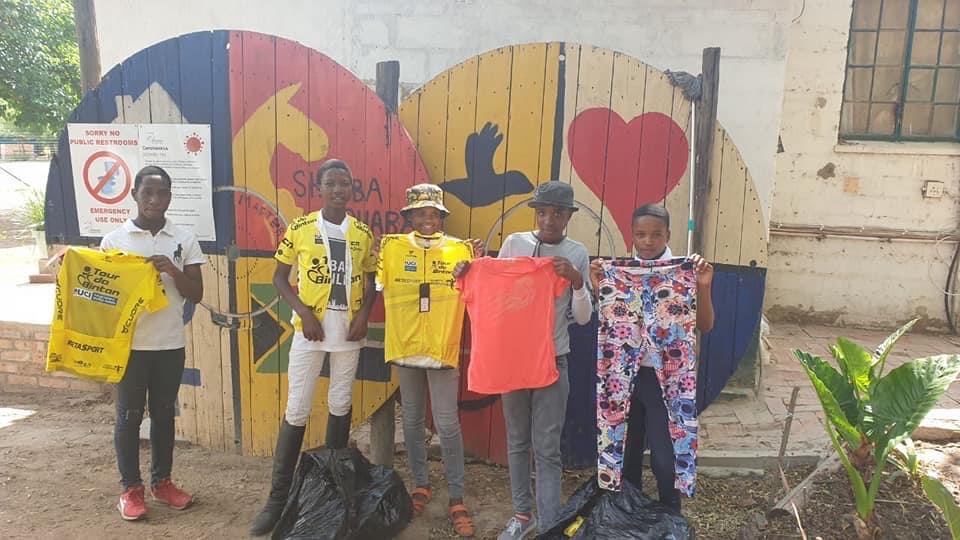 04 Feb

One man's trash is another man's treasure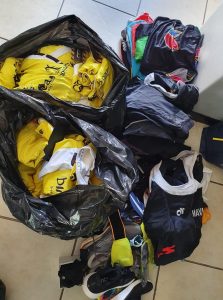 With a lack of sport events happening in 2020 and with a realisation that this year has been particularly difficult to many, some of our members have decided to turn their focus onto how they could help people in need. The story below comes from our member Frieda, who was involved in delivering donated sport items from Singapore, to impoverished sport enthusiasts in South Africa.
In 2019, the Metamates and Tuesday Fast Femme's collected over 120kg of cycling kit, race Tees , running shoes , cycling shoes), trisuits, swim caps, swimmers and sporting accessories to donate to underprivileged sporting enthusiasts in South Africa. 
'Play it Forward Jozi' stepped in to coordinate the collection and distribution of all the sporting goods in Johannesburg. Play it Forward is a voluntary association that was started in 2018 by four Grade 6 boys and their parents, with the objective of "Uniting All through Sport". Alison Garrett, Ross' mum, is the driving force arranging pickups of donated items on weekends or during her lunch hour and coordinating with charities and organisations to ensure that worthy causes are supported.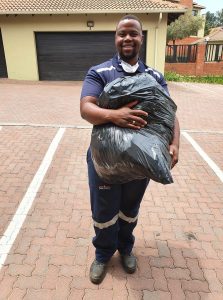 In 2020, Metasport donated two containers of brand new Yellow Jerseys to this cause in South Africa. Along with donations from a few more Metamates, a box was shipped directly to Alison. Play it Forward partnered again with Coach Tebogo from Diepsloot Mountain Bike Academy to kit his young cyclists, all from Diepsloot Township.
Diepsloot is a Township on the outskirts of Northern Johannesburg with an estimated population of 400,000 people covering an area of 12km². The majority of people who live there, live in 3x2m shacks made from corrugated iron and other scrap material.  Overpopulation and the government's failure to provide basic infrastructure, such as water and sanitation, has given this Township a reputation as a "forgotten township".  Children who grow up here battle poverty, access to education, safety and security. Diepsloot was established in 1994 as a transit camp and due to its proximity to the city it has attracted many migrants looking for jobs. It is a relatively young settlement and does not have the established community structures that provide rules and community leadership, such as Townships like Soweto and Alexandra. It is called "a survivalist place".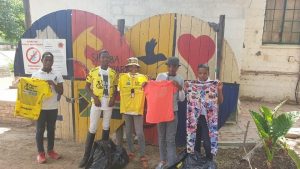 The second organisation that community members and myself supported was Shumba Shaba, an organisation that operates from an equestrian farm outside of Diepsloot that helps children and adults heal from trauma through individual therapy sessions in sport and recreation. Shumba Shaba offers equine assisted life skills programs and Horse Appreciation programmes. Programmes include life skills and healing for Youth at Risk, Addiction disorders, Care for the Carer, Trauma Support and Victim Empowerment.
All our donated sports bras are sent to Project Uplift – a ZABRA initiative that collects bras (new and used) for women who cannot afford to buy their own. ZABRA have collected over 16,000 bras to date.
In developing countries such as South Africa with a population of more than 57million people and an unemployment rate expected to exceed 50% this year (from more than 30% in prior years) clothes and accessories for sport really are luxury items. 
So it is true that "One man's [or Woman's] trash, is another one's treasure".  
There are also cyclists in Singapore who regularly send items to the Philippines and Indonesia – please reach out and we'll connect you.
If you'd like to know more about any of the organisation that we've supported to date, you can look them up here:
https://www.facebook.com/PlayitForwardJozi/
https://www.facebook.com/DiepslootMTBAcademy/