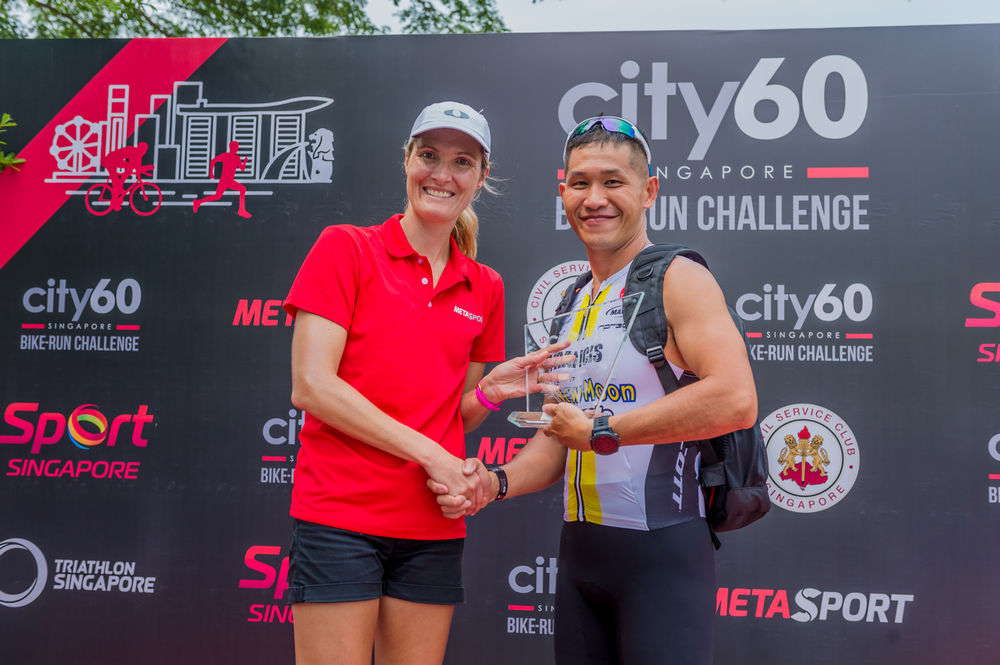 09 May

Our beacon in the dark

Nerida Rigg is MetaSport's Event Director and our beacon in the dark. Literally, as she is easy to spot in a crowd being 6-foot tall and blond, and figuratively when she guides the team with her positive attitude through difficult moments.
What do you actually do at MetaSport.
It's my job to make sure we deliver a high-quality event, that runs smoothly, where the athletes are safe and happy, our sponsors and stakeholders are pleased, and we reach our budget targets.
And yes, that means that I can't actually race on event days. (you'd be surprised how often I get asked that!)
You actually moved country to join MetaSport. What was in the offer that you could not refuse?
Yes, I moved with my family (husband, two kids and a dog) from Hong Kong to join the team in Singapore. I was hired to step into Nathalie's shoes as Event Director, so she could focus on her role as CEO. That was a little intimidating to say the least. They were big shoes to fill.
I was promised a life full of high-profile monthly events, regular deadlines, long hours, hot weather and hawker market lunches. I got all that plus more – fantastic colleagues, lots of laughs, plenty of opportunity to lead and encourage the team, and lots of internal competitions (everything is a competition!). Good times!
Have you always wanted to work in the sports industry or did you end up here by coincidence?
Yes, I always wanted to work in the sports industry, but fate took me down the multisport path.
A few years after I completed my post-graduate in Sports Management I moved to Hong Kong, where I saw an opportunity to organise multisport races. I loved the people I met, I loved planning and organising the events, and I loved seeing the smiles and satisfaction on athletes' faces when they crossed the finish line.
In my little company I did pretty much everything. I was the Race and Event Director, plus I did the marketing, customer service, business development and sourcing. Coming to MetaSport where we have specialists in each field was very cool.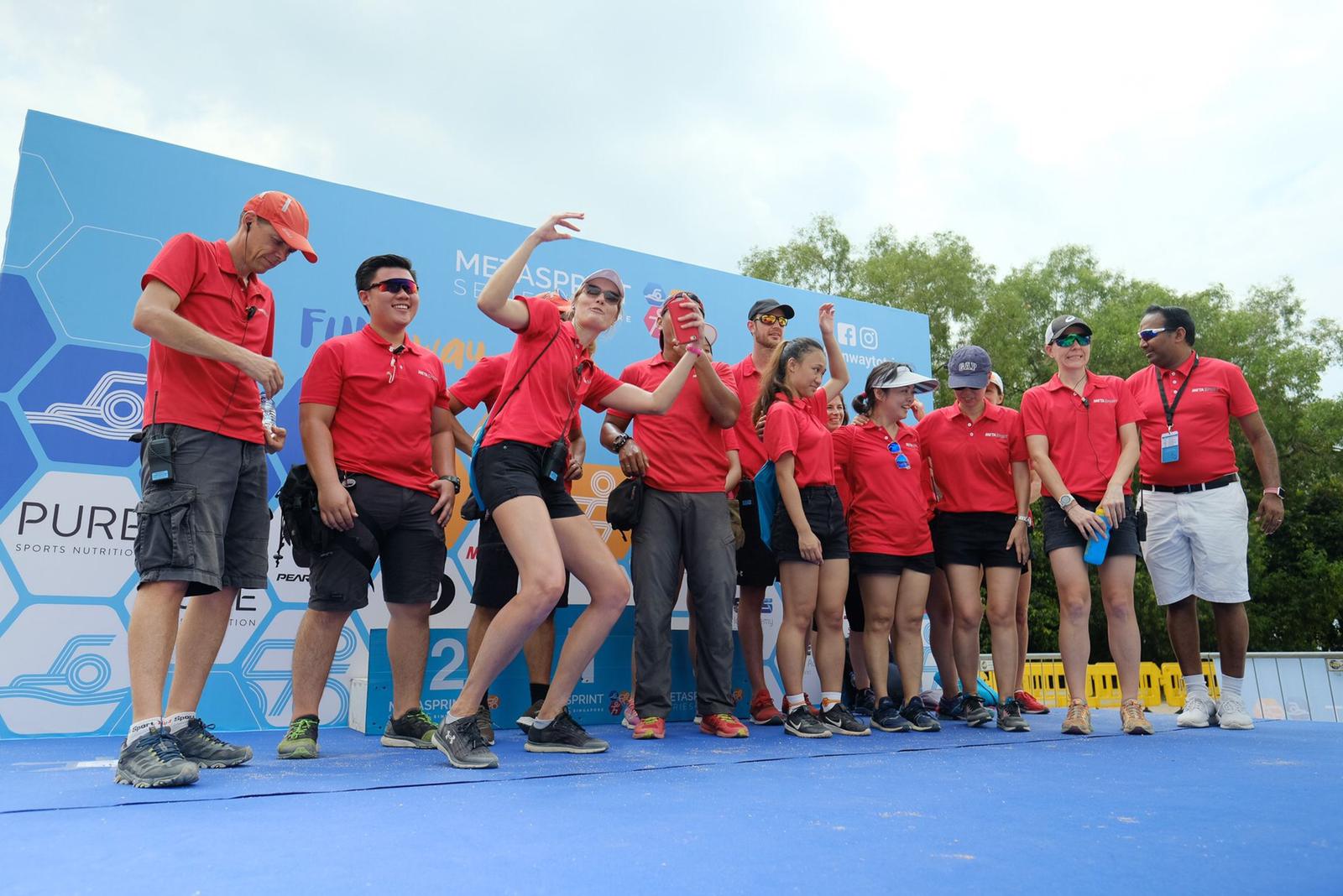 A group picture of the MetaSport team at the 2019 MetaSprint Series Aquathlon.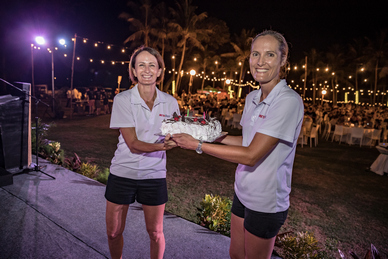 Nerida's Birthday Surprise at the 2019 Tour de Bintan Tour Dinner.
What do you like best about your job?
Firstly, I like being able to work with an extremely talented bunch of people every day. I learn from them, I'm constantly challenged by them, and we are all focused on doing the best job we can.
Secondly, I like helping people achieve their goals, and change their lives through sport – it's very fulfilling. A favourite of mine is seeing kids enjoy the races – being active outside and doing something they didn't know their little bodies could.
Are you an athlete yourself? Please tell us about some of your achievements and failures.
Yes, I am a (tri)athlete. I'm a better runner than I am a cyclist, and I love swimming. I love the fact that the more time you put into training, the better you get. It's a simple equation. I like long distance races, where you can't hide if you're not fit. It's all about preparation and mental determination.
I have had successful races where I crossed the line happy, wearing the finishers medal proudly afterwards (IRONMAN New Zealand, IRONMAN Western Australia, and some big city marathons like New York and San Diego). And then there's been those races where I finished short (IRONMAN Melbourne, L'etape du Tour). I learnt through every failure, but it didn't stop me from being so incredibly disappointed. Watching everyone else walking around with their medal was heartbreaking. You have to earn each and every race finish, and the disappointment makes you come back again and give it another shot.
What's your best memory working on MetaSport events?
I like the trips away to Bintan, where the whole team comes together. We have our timing guys and MC fly up from Australia, and our staff from Hong Kong join us. We get to spend four or five days as a big family, all consumed with delivering a great event. It's a chance to get to know everyone and spend some down time together. We have a lot of fun.
Hmmmm…. it's often during times of adversity that you get the moments you reflect on afterwards and giggle. For example, watching our operations manager, Lin Hong, save a sinking tent by slashing the awning with scissors and watching the water pour out. Or hovering under an umbrella with our MC and Ops Manager during a thunderstorm recently and hugging each other like children with every crash of lightning. (We were such wimps!)
What's your favourite MetaSport event?
That's an easy one, Bintan Triathlon. It was my first event with the company, and it encapsulates everything I love, which is the beautiful surroundings, sport, family and friends. Its laid-back vibe is totally different to the intensity of IRONMAN 70.3 Bintan or Tour de Bintan.
Considering you are Australian, you must have a nick name. Care to share?
Mine's Neddy…… cos everything's got a 'y' on the end in Oz 🙂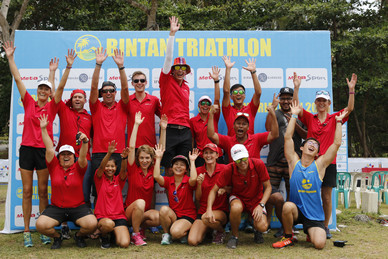 A group picture of the MetaSport Team at the 2016 Bintan Triathlon.
Thank you, Neddy, for sharing your story!