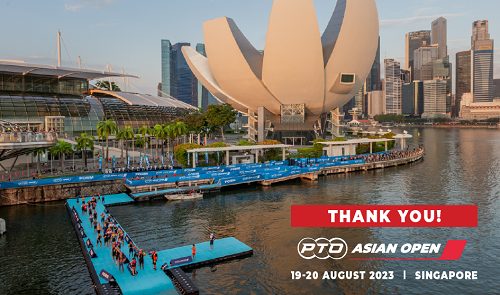 30 Aug

PTO Asian Open : It's a wrap!

The PTO Asian Open has come and gone, the first time the brand has hit this part of the world. MetaSport was proud to be leading the event delivery. So how did the week fare?

For a niche sport like triathlon, it was a big deal. Hundreds of lamp post banners and digital screens flooded the city centre with images of the world's best triathletes. Experienced amateurs swam for the first time ever in Marina Bay. Team Singapore athletes, led by Joseph Schooling, formed relay teams, excited to be part of the action. Radio stations announced road closure information.

The event took over Marina Bay, in front of thousands of curious eyes marvelling at the magnificent feats the athletes were displaying. Never before has there been such a proud moment for our sport in the little red dot.

Broadcast bikes and drones shot eight hours of television footage that beamed worldwide over the most well known channels – Eurosport, Discovery, GCN +. Images of Marina Bay Sands, Gardens By the Bay, the Singapore Flyer all prominently featured as athletes strode and pedalled by. Our beautiful Marina Reservoir, beautifully swirling amidst the arms and legs of splashing swimmers in their coloured swim caps.

Hundreds of local school kids handing out drinks on course to their new heroes. Fans lining up for autographs with their favourite athletes. Commentators announcing athlete names as they crossed the line, bands performing on stage, not a moment of silence.

A race expo, visited by thousands. Delicious smells emulating out of food trucks in the festival area. A dance party under the stars as part of the Music Run.

It was three days of triathlon heaven, not in the US, or Europe but in our own home town. Asia's triathlon heart is at Bayfront Event Space. And the race is returning again next year. It's a great time to be a fan in Singapore.