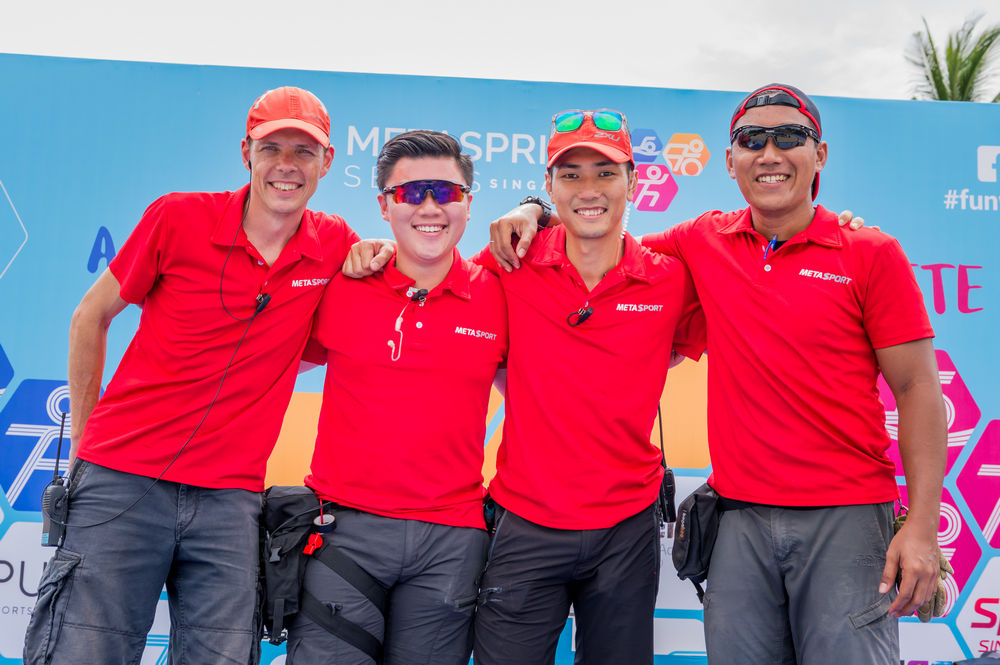 05 Apr

The Quiet and Solid Rock

Choo Lin Hong is MetaSport's current Operations Manager and also the Race Director for most of our events. We met up with him to give you a glimpse of the quiet and solid rock that we rely on to make our events happen.
How long have you worked for MetaSport?
5 years. I have worked on more than 40 events now, of which about half of them as a Race Director.
What was the first event you worked on and what was your role?
My first event was the MetaSprint Series Duathlon in 2014. That was the year the duathlon was first held at F1 Pit Building. I was managing the venue setup and equipment.
Do you recall anything that struck you as odd, different or unexpected working at MetaSport?
Having colleagues that are ex-National, European and World Champion triathletes was rather unexpected. Having day to day interaction with them was very interesting as I got the opportunity to ask about their life as a professional athlete.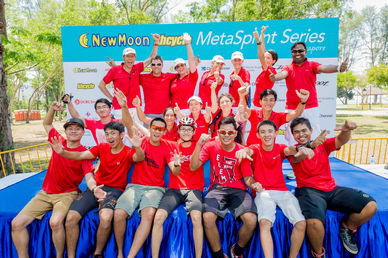 A group picture at the 2014 MetaSprint Series Duathlon.
What do you like most of your current operations manager or race director job?
At every event, I like to take a moment to pause and just look around. I enjoy seeing the multi-sport community come together and feel good about having, in some way, contributed to the positive impact that multi-sport and our events have on people's lives.
Do you have a favourite event and why?
It would have to be the Bintan Triathlon, because of the full spectrum of multi-sport activities packed in one weekend; from the very competitive Olympic Distance on Saturday to the Youth and Kids races on Sunday.
It is an event that is very festive and truly inclusive. There is something to do for everyone. The relaxed atmosphere allows us, MetaSport staff, to enjoy the event together with our participants more than usual. It has become tradition that new colleagues take part in the Fun Duo Challenge and perform their best finish act along the youngest athletes of the weekend, which is always good fun.
Please share us your funniest / most outrageous experience working at MetaSport events.
It blows my mind how we can turn everything into a competition at MetaSport. We used to have quizzes before an event, testing how well we know our events ourselves and even go into recording scores and awarding prizes. On a Go-Kart outing a colleague tried to crash into me just to get ahead. Even something simple as putting up banners turns into a competition of who can do it quicker.
What triggered your interest for triathlon?
I was working part-time at a running shoe retailer when I was still in University. Colleagues in the shop were a mix of runners, cyclists, and a few triathletes. Listening to their stories made me wanting to give it a go.
Do you have any special race memories of your own?
At Challenge Taiwan I was racing the full iron distance and training had not gone as planned. I had missed many key sessions. I was not confident and ready to drop out of the race. However, I was accompanying a friend who was attempting the full distance for the first time, and I decided to still start the race as motivation for him. As I went through each phase of the race, although physically not in a good place, I always managed to push through mentally. It was special as it was one of those races where you learn a lot about yourself. I really got to understand how strong your mind actually is.
Anything else interesting that people should know about you?
My first triathlon was back in 2010, at a MetaSport event, when it was still known as the Tribob Sprint Series and was held at Changi Beach Park.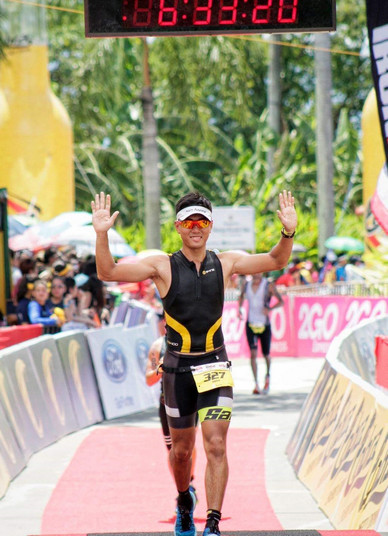 Lin Hong at the 2015 IRONMAN 70.3 Philippines, Cebu.