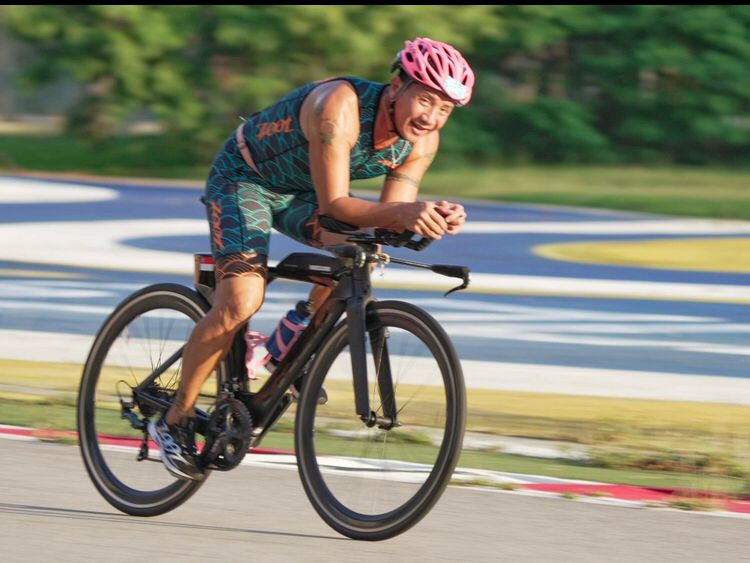 28 Feb

Raymond Howe interview

Raymond's interview:

This year marks the 15th anniversary of the MetaSprint Series, and Raymond Howe has been a regular participant since the beginning. He competed in the Aquathlon at Sentosa two weeks ago and will compete in the Duathlon next week.

MetaSport's CEO, Nathalie Marquet, took the time to delve deeper into the spark that drives Raymond.

Nathalie: It is always a pleasure to see your friendly face and happy smile early in the morning at our events. Your life story has always moved me and inspired me. To me, you are the personification of the concept of taking charge of your life regardless of the challenges that are thrown at you. Triathlon has played a key role in your life. Can you please tell our Triathlon friends more about it?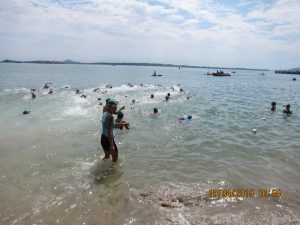 1. Fighting cancer is what got you into the sport of triathlon about 15 years ago. Can you talk to us about it?
It has been 22 years since I was first diagnosed with cancer and my second was in 2016. The book – It's Not About The Bike by Lance Armstrong, paved my way into the world of triathlon. Putting aside the drugs controversy, I respect the man for the work he has done with his Lance Armstrong Foundation for Kids With Cancer.
His book inspired me that life is worth a second chance and if you put your heart and mind into it, anything can be achieved. His training regime to be a top cyclist despite battling cancer was an inspiration for me.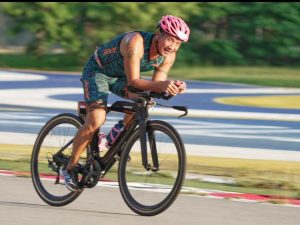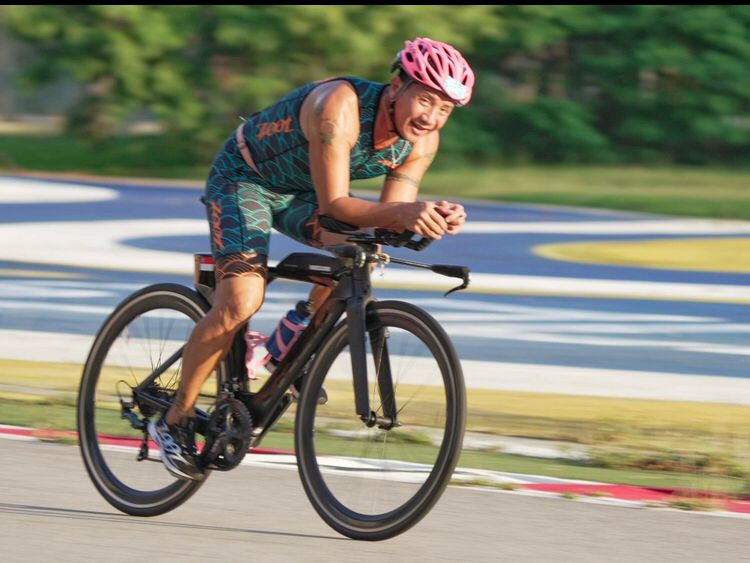 So, I pedalled during my remission but it was a challenge as I was on medication. At times, I wanted to give up, but this book kept me pushing.
Lance's early years as a triathlete piqued my interest, so I read on. My oncologist repeatedly reminded me to increase my endorphin levels because they aid in recovery. So I reasoned, why not include a few more disciplines? In Miami, I competed in my first triathlon and finished last (6+ hours for an OD!). I was in pain, but fine, and I promised myself "never again!".
When I returned to Singapore, I participated in a TriBob triathlon event. My love-hate relationship with the triathlon was then forever changed. I didn't do well, but I had a great time and met some new people. I didn't give up, and I succeeded in crossing the magical finish line. The feeling was exhilarating. I fell in love with the sport.
2. Why did you choose triathlon over another sport?
I love football, scuba diving, and surfing. But nothing beats triathlon. It gives you the adrenalin rush of 3 disciplines into 1. It's a sport that ensures your mind and your body are in sync and it is like you are competing against yourself each time you put on those goggles, put that crack on a saddle, and slip on those running shoes. It takes the boredom out of a single discipline sport. It is a sport that says anything is possible.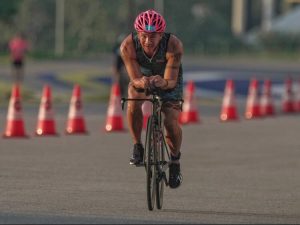 3. You go short and long, we saw you pre-covid at IRONMAN 70.3 Bintan as well. What do you like most? Why?
I started asking my friends who had completed the inaugural IRONMAN 70.3 Bintan event. All described it as a tough, hilly, and hot course. It sorts of put me off and I was apprehensive. However, I love challenges, so I trained harder to be able to cross this finish line. Indeed, it was a tough race, but all the excitement of an IRONMAN race.
4. Tell us about one of your best memories at the MetaSprint Series?
I have many! The agony of defeat (not achieving a PB) and the glory of achieving them, equipment hiccups, embarrassing moments (a tear on my trisuit at the crack of my butt during the bike leg and I ran exposed). But if I must have just one memorable memory, it is getting my girlfriend and another friend addicted to the sport through the MetaSprint Series. They started with the Discovery distance for a few years, and eventually graduated to Sprint and my best buddy even completed two IRONMAN 70.3 Bintan races with me.
5. With events being sparse in the past two years, how did you remain motivated to train and keep fit?
With my 2nd cancer in 2016, I was determined to beat it as I did with my first. The last two years were tough. There was no motivation as races were curtailed. My training went two notches down. We had limitations with outdoor or gym training. My cancer markers increased.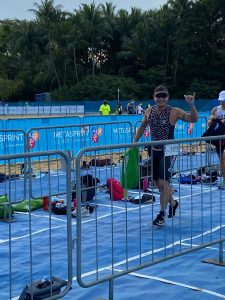 That increase woke me up. I bought a new bike trainer, created a home gym, and drew a training program. I tested my mind over my body. It was tough. Virtual races became boring after a while.
When MetaSport announced a physical race happening in 2021 – this sparked my energy and gave me the motivation to train. Even if it had to be postponed, I was determined to be ready. And ready I was at the start line. So, thank you MetaSport!
6. You were with newbie friends at the Aquathlon two weeks ago. Did they get the bug?
One of them is my nephew, he has been training for nearly a year. And to see him swim and run put a spark in my heart and now he is looking forward to the MetaSprint Duathlon and Triathlon and he is already talking about IRONMAN 70.3 Bintan!