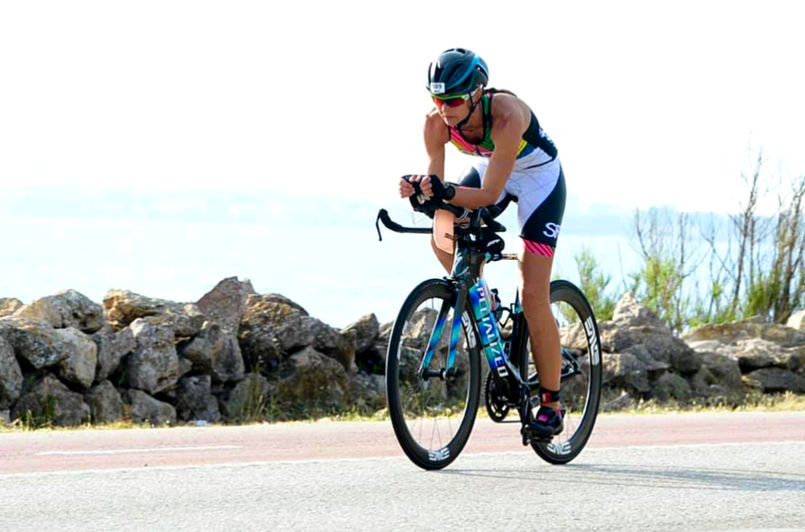 17 Jul

The Spark for Triathlon

Megan Gray started her Triathlon journey 8 years ago and it was the best decision of her life. Her first race was the newbie friendly MetaSprint Series, followed by the fun and sporty Bintan Triathlon. Her determination paid off when she qualified for IRONMAN World Champs last year.

Let's dive into Megan Gray's Triathlon Experience!
When and how did you start triathlon?
Shortly after arriving in Singapore in 2010, I chanced upon making some friends who had literally just completed the Bintan Triathlon and it was a hot topic over lunch. I was intrigued, as it sounded like a lot of fun and a great opportunity to stay fit. So, I didn't hesitate when they encouraged me to join them. At first it was more of a social opportunity, joining them to cruise the park connectors along East Coast Park on a hire bike but before I knew it, I had purchased my first road bike and signed up for the Metasprint series & Bintan Triathlon the following year.
What got you hooked? What do you like best of taking part in triathlons?
Once I dipped my toe in and felt the rush of racing, I knew there would be no turning back. I loved the atmosphere and excitement of race day, pushing my body to its limits and the joy of racing alongside friends in such a supportive community.
I decided to join the Metasport Training Squad to learn as much as I could regarding each of the 3 disciplines. I joined almost every session on offer throughout the week. The Metasport weekly schedule became my "training program" and whilst I soaked up all the training tips, advice and instruction from the coaches I was also constantly inspired by the more experienced and successful athletes that I was surrounded by.
You qualified for the IRONMAN World Champs last year. How did that come about?
Over the years, I watched others within our training squad graduate from novices to IRONMAN athletes and thought if they can do it, so can I! I progressed from sprint in 2011 to Olympic Distance in 2013, IRONMAN 70.3 in 2014 and then IRONMAN in 2016.
Keenly following the success of fellow training friends who had qualified for world championship races I wanted to join the elite circle and sought an expert coach who could take me to the next level.
In 2018 I signed with Australian professional triathlete and Metasport Head Coach Kate Bevilaqua with the specific goal of qualifying for the IRONMAN World Championships in Kona. Kate had no doubt that this was an achievable goal and under her guidance I trained harder and smarter than I ever had before.
I arrived at the start line of IRONMAN Subic Bay in June last year feeling 100% confident that I had done everything possible to perform my best race and the rest was up to fate. As fate had it, I executed a perfect race based on my capabilities and as a result won my age group, punching my ticket to Kona in October that same year.
What was the most memorable experience of racing Kona?
It's hard to articulate the experience that Kona entails. Being there was totally surreal and it still gives me goose bumps when I reflect on it.
From the minute you step off the plane it is easy to be overwhelmed by the harsh terrain of endless lava fields and oppressive humidity. You can instantly feel the buzz of athletes' energy & excitement. Whilst electric, it's also intimidating as you are surrounded by the fittest athletes on the planet.
Race day itself was amazing, a true sensory overload and a whole lot of pain!
Aside from the huge relief and sense of achievement on crossing the finish line, I think the most emotional highlight would be the final minute before the race started. Treading water in the crystal-clear ocean of Kailua Bay as we waited for the cannon to fire, I recall glancing around at the huge crowd lining the foreshore and feeling a rush of emotions as the reality sunk in. I was overwhelmed with an immense feeling of gratitude and respect, respect for the rich history of Kona, respect for the athletes I was surrounded by who had had their own personal journey to get there, and gratitude for being there to experience it.
How does it compare to the ITU Long Course World Championships that you took part in last month?
The ITU Multi-Sport World Championships is a week-long festival of multi-sport events culminating in the Long-Distance Triathlon on the final day. It's definitely a more relaxed vibe than Kona and with everyone decked out in their team kit there's lots of national pride, with team mates high five-ing and cheering each other on. It's a fun festival atmosphere as opposed to the highly charged competitive and somewhat intimidating environment at Kona.
The atmosphere on race day was fantastic. With home town hero and race favourite Javier Gomez racing amongst the elites the whole township of Pontevedra came out to cheer him on. Crowds lined the entire course and the engagement amongst the athletes was amazing. The race itself was challenging with an upriver swim in extremely cold water (13 degrees C), 1800m of elevation on a 3 loop 113km bike course and a 30 km run which included trail running, road running and climbing through the historic old town of Pontevedra. I was thrilled to end the day in 5th place.
The week after the ITU World Champs you lined up at Mallorca 70.3. Whose idea was it to race two long course triathlons in one week?
It was all my idea, I'd dream of racing Mallorca since sailing the island with my family in 2014 and it just seemed like the perfect opportunity given the races were so close on the calendar and just a hop, skip and jump across the country. Mallorca was all about the experience so I had no grand expectations of performance.
How did you prepare for this feat?
To aid my recovery in such a short time span I had to keep my body moving so there was no rest following the long course championship. I had daily sessions of low intensity swim/bike/run and endeavoured to get as much sleep as possible. Later in the week I embraced a few short sharp efforts to wake the legs up just prior to race day.
Did you manage to recover in one week? How did you go in Mallorca (and the ITU long course champs)?
Short answer, no…  After a decent swim and bike, I had a lacklustre run on very heavy legs, definitely still feeling the effects of the previous week's racing. I was as best prepared as possible though and with tempered race day expectations I was very satisfied with my performance finishing 17th in a highly competitive age group stacked with strong European triathletes.
Mallorca is a very hilly course. How did you train for this in flat Singapore?
Both the ITU Long Distance World Champs and Mallorca races entailed a lot of climbing. Although Singapore is flat we are blessed to have Bintan on our doorstep. I attended a 3 day camp here in March which certainly kick started my preparation. Following on from this I had regular big gear sessions on the indoor trainer and multiple repeats of Mt Faber, including one arduous morning of 15 Faber loops at the tail end of a 3-hour ride. Although I felt as well prepared as possible I was no match for the European athletes who are much more accustomed to climbing!
What are the biggest lessons learned?
Reflecting back on the past few "big" races I think the biggest lessons I have learnt are to trust in the training and believe in yourself. If you have done the work the rewards will come on race day. I think I've also learnt that 1-week recovery is not long enough! But not all races are about racing and the joy of the experience is worth it alone regardless of the outcome.
What did your average training week look like?
Training for such events is a big commitment, but if you surround yourself with fun people chasing similar goals it's highly enjoyable – and addictive! My average week would comprise around 16 hours of training consisting of 3-4 swims, 3 bike sessions (one extra long) and 4 runs. In addition to this I would also complete a few strength conditioning sessions and indulge in a good deep tissue massage every week.
What is your proudest sport moment? 
My proudest sporting moment would have to be winning my age group at IRONMAN Subic Bay and qualifying for Kona. It was something I had barely dared to dream of just a few years earlier and I was thrilled that the hard work and determination paid off. The actual race day in Kona was the icing on top, it was just a privilege to be there amongst the world's best triathletes.
…and what's your biggest fail?
I don't really believe in failures as I think every race experience good or bad is a learning opportunity that will help us become a better athlete in the future. Having said that though, my biggest disappointment would be flying all the way to Chattanooga Tennessee for the IRONMAN 70.3 World Championships in 2017 to complete the swim and then crash the bike 500m out of T1 fracturing my elbow!
Having ticked off quite a few boxes the past few years, what's still on your bucket list?
I feel very fortunate that over the past 8 years triathlon has taken me to every continent of the world excluding South America. Perhaps I need to add racing in Brazil to the bucket list!
In the short term my focus is on improving my performance over the 70.3 distance and to qualify for the 2020 IRONMAN 70.3 World Championships in New Zealand. Although I don't feel ready to step back up to IRONMAN racing, I'd never say never to returning to Kona but for now I'm happy just to cherish the memory.