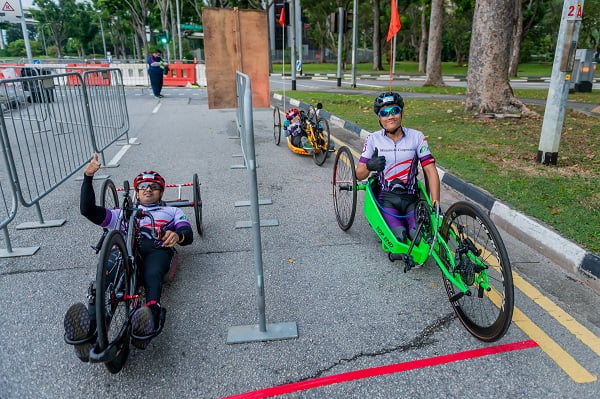 29 Mar

The Truth About Para Athletes…In Their Own Words

Earlier this month, five para-athlete teams took part in the MetaSprint Series Duathlon. It is always impressive and awe inspiring to watch them race, and an honour to have them amongst our participants. Since we simply can't get enough of them, we decided to reach out to the Para Cycling Federation of Singapore and the athletes to learn more about their sport.

The Para Cycling Federation of Singapore (PCFS), was formerly known as the Handcycling Association of Singapore (HAS). It is a non-profit national disability sports association. Re-invented as PCFS in 2017 to include other forms of para-cycling, it is dedicated to the development of disabled athletes by promoting para-cycling as a recreational activity, competitive sport, as well as a means of rehabilitation for persons with disabilities.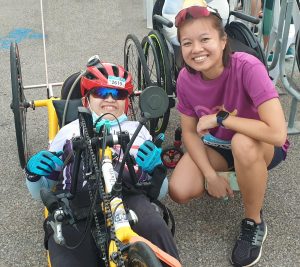 We got to ask some questions to participants Steeve, Amanda and Muhammad. Before we get to those, here is a bit more about each para-athlete: Amanda has been para-cycling for 12 years, Muhammad for 10. Steeve joined the sport back in March 2017, training on a part-time basis after work. In February 2019, after the Singapore National Paralympic Council (SNPC) informed him that both his cycling pilot and him had earned a slot for the Tokyo Paralympic Games, he left his full-time job and became a full-time athlete, training for the Paralympics Games for the first time as a debutant.
All joined the sport for different reasons. Amanda says she enjoys the adrenaline when the bike moves at a fast pace, and feeling the wind blow past. Also the friendship forged within the team.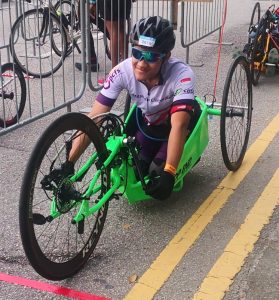 Due to his condition Muhammad can't ride a normal bicycle, but he adds that "riding a handcycle fulfills my desire to ride at speed." For Steeve, it was curiosity that made him try the sport. Back in December 2016, one of his friends who was working at the sports council informed him that the former president of the Para Cycling Federation of Singapore (PCFS) was looking for visually impaired individuals to form a tandem cycling team. The rest as they say is history, "after three months of consideration, I decided to go try the sport in March 2017. My cycling journey started then." 
When we asked them what they enjoyed most about the event, they all agreed that the crowd encouragement was very uplifting. Without exception, all are grateful to be back racing after two years due to Covid-19 restrictions. 
As an unforgettable memory and final thought, Steeve remembers his finish line moment at the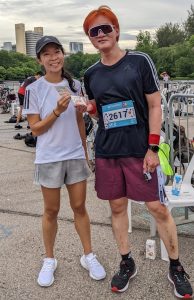 Duathlon, "The most memorable moment at the event was when my running guide and I crossed the finishing line. She was constantly telling me how many kilometers to go. When I heard "100 meters to go!", suddenly I felt excited as we were going to finish the race soon. When she told me that "yes we did it!" I replied "Yes finally!" happily."