19 Apr

Training Tips For A Mom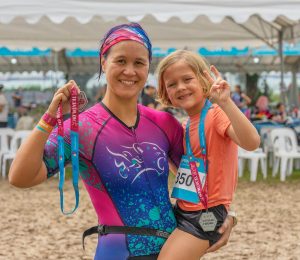 "Being a triathlete is tough. Being a Mum is tough. Combining the two is probably a little silly, but a bunch of us here in Singapore (and around the world) do it all the time! I actually took up triathlon not long after my first child was born, I'd gotten back into swimming when I was pregnant and thought it was a next step up to challenge myself. I also work full time so the juggle is real!
When the kids were young and I was only doing shorter distance triathlons, the running stroller was the best thing ever and we did lots of runs together, equipped with lots of snacks and a portable speaker playing The Wiggles (hype music hits different as a Mum). These days, as I've worked up to longer distance triathlons (and the kids are getting heavier), I am finding myself having to get up earlier and earlier to squeeze in my training. Parenting basically just takes away a little bit more of that training time that others might have. I get up around 5am about 4 mornings a week so that I can do my rides and runs, and Saturday mornings are my big BRIC sessions when my wonderfully supportive husband takes the reins with the kids.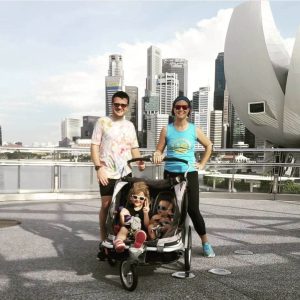 I remember when my eldest was going through her clingy phase around 2 years old, and I had to sneak out of the house before she woke up and try and get back not long after!
Today, she is 6 years old and although some evenings she gets a bit cranky at me when I tell her that I'll be out riding when she wakes up, she is starting to be able to participate in some of the local races like the Metasprint "Scootathlon" which was her first solo race this year. She loved it, so I'm hoping we can do more together in the future. Ultimately, I truly believe that being a triathlete makes me a better Mum, and vice-versa. Being fit and healthy, both physically and mentally, is such an important thing in life and setting a great example for my kids makes me prouder than anything."