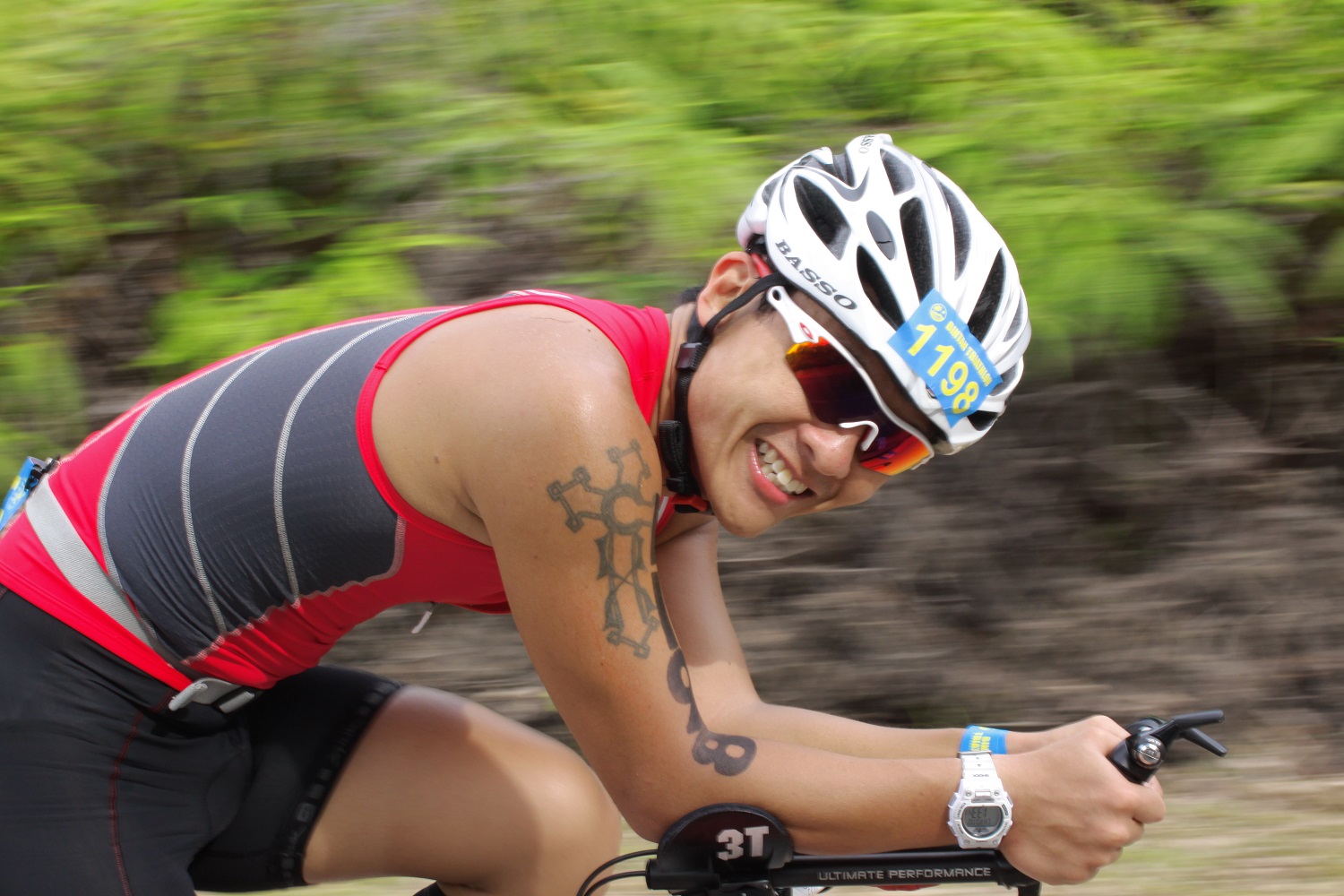 03 May

TRAINING TIPS: Transitioning from Sprint to Olympic Distance Triathlon
Training tips by Coach Elvia Suryadi
Thinking of doing your first Olympic Distance triathlon but unsure if you have the time to train? If you can fit in 3-4 training sessions a week, it can be done. You will need to train smartly and be organised with your time to make sure you get your training in. Combining a block of two sports together at least once a week is a good way to save time.
Here are some training tips for transitioning from a Sprint Distance to an Olympic Distance Triathlon:
Swim at least once a week
Most of your swim training should be done in the pool, covering between1.5-2km per session. You can slowly build your distance by breaking up your swim sets into blocks of 100 meters (10-20x100m with 10sec rest), instead of swimming non-stop for 1.5km.
If swimming is your weakness, you might want to add a weekly open water session to get comfortable swimming in the sea.
Although front-crawl stroke is highly recommended as it is the most effective one to use, you can complete a triathlon in any stroke you are comfortable with. Learning to swim front-crawl is a good investment for your future races, but it is not necessary to use it in your first race.
Do a longer ride on weekends
Fit in a long ride between 90-120mins on the weekends. A weekly long, steady bike session will get you through the 40km ride on race day.
If you are not confident to ride on the open road, start by training on a stationary bike or an indoor trainer. However, it is important to have a couple of riding sessions on the road to practice gear changing and improve bike handling skills.
If you have any discomfort while riding, it is a good idea to get a proper bike fit a few weeks early before race day.
Your longest run should be between 1hr to 1:15
How well you run on race day will depend on how fit you are on the swim and bike. You will still need to do a weekly long run to get the body used to the pounding on the road.
If running is your weakness, a twice weekly session will be ideal: a shorter 40mins run with some intensity and a slower, longer run to build endurance.
Learn to pace yourself
You can expect your race pace for the swim, bike and run to be slower than your sprint distance triathlon. It is a good idea to include workouts that would predict your pace on race day.
On your long bike and run sessions, try training at the speed that you will feel comfortable to sustain for the entire 40km of cycling and 10km of running.
Don't forget about race nutrition
As you will be out on the course at twice the distance, it is important to know how many and what type of calories to consume on race day. Most of the calories should be taken in during the bike and you will still need to fuel on the run. It is best to practice your nutrition strategy during your long rides and runs.
Hydration is also an important factor to consider. Taking a sweat test to know how much sweat you lose is highly recommended to plan for a proper hydration technique.
Practice transition and brick training
Your training should include more bike-run workouts before race day. Practice 15-20mins of running off the long bike session to get used to the "jelly legs". You can also set up a "mock-up" transition area to get a feel of changing from swim to bike or bike to run.
Your training goal should not be to try to do more sessions or get faster in each session. Being consistent is the key to improvement and planning ahead will get you there.
If you are unwell, take a day off and get back to training when you feel better. If you feel a little tired and unsure if you should train, go out and commit to 20 minutes and decide after that. It is ok to take an easy day or a day off if your body needs rest.
Good luck and happy training.
TRAINING PLAN – 4 weeks to race day – INTERMEDIATE TO ADVANCED

Training Plan by Coach Shem Leong
Week 1-2
Monday:  Swim: W/U 200m. Main Set: 3x (5x 100m hard/10-15sec rest), C/D: 300-400m easy
Tuesday:  Run:
Do this on the road or at a track or on a treadmill
W/U: 10 mins easy / 5 mins moderate
4 x 30 sec fast / 60 sec stationary recovery
Main Set
16 x 1.5 mins / 45 sec rest
Looking for the best even pace / distance.
That means first, middle and last one are done at the same best pace you can hold for all.
Useful to mark out a 1.5 min 'loop' and do repeats of that.
C/D: 5 – 10 mins very easy
OR come to MetaSport Track Session at 7 – 9.30pm at 21 Evans Road. Book as trial session at www.metasport.com
Wednesday:  Bike
On a stationary bike / bike trainer or up a steep slope
W/U: 10 min easy build
Main Set
6 x 5 min HARD in the big gear / 3 mins easy spin recovery
Alternating efforts in the saddle and 'climbing' out of the saddle
Efforts at cadence 45 – 55
C/D: 10 min easy spin OR Optional 15-20 min moderate run off the bike Treadmill / road
Thursday: Swim: W/U: 200m easy. Main Set: 10x200m (25 hard/ 25 easy/ 50 hard/ 50 easy/ 25 hard/ 25easy) / 30-40sec rest. C/D: 200m easy
Friday:  Bike:
On a stationary bike/ bike trainer or on a flat and safe road with low traffic
W/U: 10-15 mins easy
Main Set:
2 x 20 mins hard/ 10 mins easy spin
Cadence 75 – 85
Aiming to hold the best even power across all intervals
C/D 10 mins easy spin
Saturday: Run: 50-60mins – easy build to race pace
Sunday: Bike/Run: 2hrs ride followed by 15-20mins run
Week 3-4 – TAPER

Monday Swim: W/U: 200m easy. Main Set: 20x50m race pace/ 20sec rest. C/D: 300m easy
Tuesday:
Week 3: Run W/U: 10mins easy, 10 mins moderate. Main Set: 4x1min hard / 1 min easy. C/D: 10mins very easy
Week 4: Bike: 60mins easy
Wednesday:
Week 3: Bike: W/U: 20mins easy. Main Set: 10x1min hard/1min very easy. C/D: 20mins very easy run
Week 4: Run: 20-30mins easy jog
Thursday:
Week 3: Swim: 20-30mins easy
Week 4: DAY OFF
Friday:
Week 3: DAY OFF
Week 4: Swim: 15-20mins easy, Bike: 20mins easy, Run: 10mins easy jog
Saturday: RACE DAY