01 Dec

Battle of the triathlon titans, the sequal

In September 2021 we published an article about the new exciting formats from Super League Triathlon and the Professional Triathlon Organisation (PTO) that had entered the triathlon scene. [ September 2021 article]. Now a year later, we take a look at what has happened since, and if there has been a response from the 'old guard', World Triathlon and IRONMAN.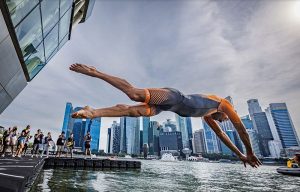 Super League Triathlon
Super League Triathlon have stuck to their guns with super short triathlon races and continue to expand their championship series, now consisting of 5 races. The race in Toulouse, last October, was particularly well received, with droves of spectators lining the course, showing that the public is embracing the format. It is still a challenge to comprehend the point scoring and team competition, but it is spectacular to watch. 
Showing the same dynamism as their races, Super League Triathlon launched an innovative and award winning E-triathlon Series in 2021. In an Arena Games Triathlon, athletes complete a triathlon on a virtual course. They swim in a pool, bike on trainers and run on treadmills. The grand final in Singapore was groundbreaking for another reason as well, as athletes swam in Marina Bay for the very first time. The rumour is that Super League Triathlon is coming back to Singapore. Expect the unexpected!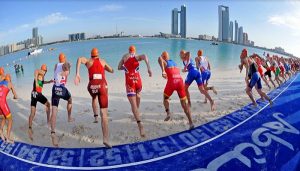 World Triathlon
World Triathlon, which is operating in the same space as Super League Triathlon, has recognised the innovative format of the Arena Games. By partnering with Super League Triathlon they are setting themselves up for a spot at the first E-sport Olympic Games. And that may be very soon. Singapore has been appointed by the IOC to host the inaugural Olympic E-sport Week from 22 to 25 June 2023.
World Triathlon is still struggling to make their World Triathlon Championships Series truly exciting to watch. Too often, the swim and bike are just a warm-up for a running race. Fortunately, the Bermuda event that features a steep hill and the Grand Final in Abu Dhabi, last weekend, saw aggressive racing and a thriller plot, with the men's championship being decided in the final meters of the race. All is not lost. 2023 will see a normal WTCS calendar again. Yokohama will likely remain the only Asian race.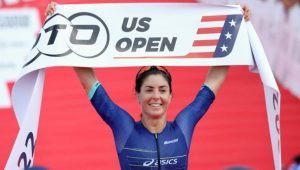 Professional Triathlon Organisation
The other new kid on the block launched their first two events in 2022 that they like to compare with the grand slams in Tennis. The Canada Open and the US Open saw plenty of drama and close racing thanks to a stellar cast (most of the top athletes gave presence) and a top notch TV production. So far they have succeeded in their aim of making the Middle Distance Triathlon exciting to watch, and exceeded their expectations in viewership. It is also backed by seemingly deep pockets, judging from the prize purses and annual bonuses that athletes receive from PTO. 
For 2023, PTO is looking to expand their series of 'Grand Slams' around the globe. We heard that the PTO calendar is being revealed in December. Place your bets!
IRONMAN
IRONMAN is the biggest player in the middle and long distance triathlon domain and has dominated the racing scene for decades. Any competition has always been aggressively countered, but this time they are facing a different kind of competition. PTO is not just another organiser. It represents and is led by the same professional athletes that grace IRONMAN events. With the new competition on the market, IRONMAN has already started to step up their game. The recent IRONMAN and IRONMAN 70.3 World Championships saw stacked fields and exciting races, and you could watch it all unfold live on IRONMAN Facebook and YouTube. And this is likely just the start. 
2023 is going to be a very exciting triathlon year!