30 Oct

MORE THAN JUST A RACE – BEHIND THE SCENES OF THE GREEN DOT CHALLENGE

The Green Dot Challenge is our new next-generation 10km race taking place next month across different running destinations in Singapore. Before you embark on the trails and lush green running routes, join us for a tour behind the scenes of the race to see the journey travelled so far. 

The Equaliser

It's the talking point of the race! Although participants run four different 10 km routes, there will be one unique leaderboard that includes them all. Of course, we can't simply compare the finish times (that wouldn't be fair!) as each route has a different level of difficulty. So, we have a team of twelve course testers, who have been busy running the four different 10km routes at a similar effort, just around threshold pace. The Race Director collected all their data, taking in consideration, pace, heart rate, weather conditions, terrain, time of the day… to come up with the unique equaliser formula that will be applied to all the finish times – before being added to the Green Dot Challenge leaderboard.

Partner perks in Punggol

To celebrate the opening of a new retail outlet for our partner Decathlon, the Race Director has specifically designed a course that ends 200 meters from the new Northshore Decathlon outlet. Our testers raved about this route, saying it was their favourite "for the beautiful sunrise and lovely scenery that offers lots to look at". Participants of the Decathlon Punggol Waterfront route also get special perks from Decathlon.
Super Shoe Saturday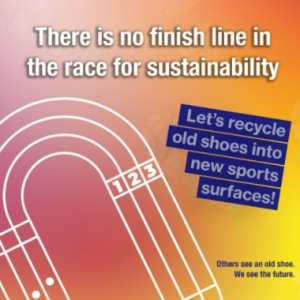 Got old sports shoes you no longer wear? Let us help! To support Decathlon's green initiative to recycle old sports shoes we have created "Super Shoe Saturday". On 20 November, there will be containers at each of our four start lines to collect your old shoes. It's a great opportunity to give a new lease of life to your well-worn shoes, as they will be transformed into sport infrastructure, such as jogging tracks, fitness corners and playgrounds. 
The voice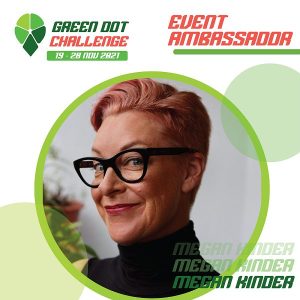 The Green Dot Challenge is a new-generation race. It is powered by the MyRaceGate app, which provides turn-by-turn voice navigation and entertainment on the course. 
For the navigation, we are using an AI voice called Amy. For entertainment and motivation, Megan Kinder will provide company to the participants during their 10km race. She will share a wide range of anecdotes and fun facts, related to the course they have chosen. Participants love this, check out the feedback from our Run As One Singapore champion Justin Tilley, who experienced it for the first time.