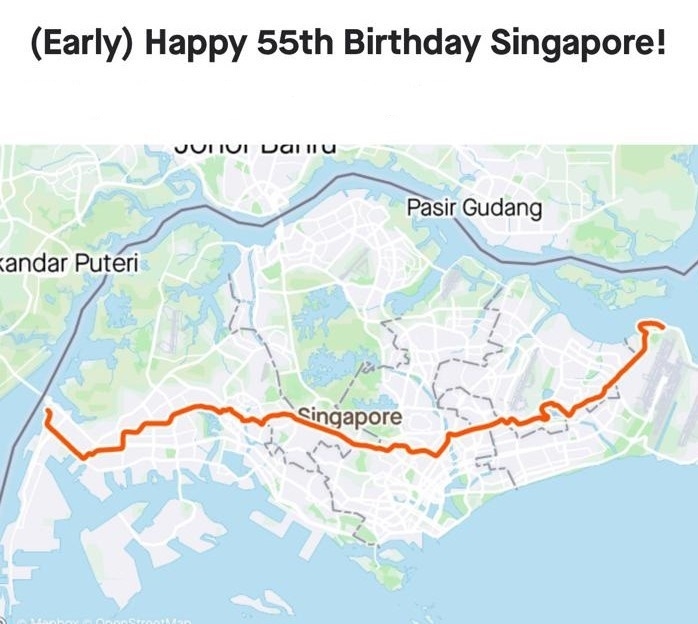 24 Aug

A 55km solo run, the ultimate National Day challenge!

One of our regular participants who has had very itchy feet the last few months to race against the clock has set himself an incredible challenge! Ali King, an avid runner who has been a familiar face in all the MetaSport events and who has occasionally managed to end up on some of our podiums. Read about his challenge below.
Ali King: "2020 clearly will not go down as a vintage year for sporting achievements. However, as it became increasingly apparent that we could not rely on a diary full of races to keep the motivation (or indeed the fitness) levels up, I saw the opportunity to let the imaginary 2020 trophy-case instead be filled with accomplished challenges of our own creation.  Challenges that are bespoke, personal and attempted completely on our own terms.  It was following this realisation that on the Friday night before National Day I found myself dusting off my run vest, checking my CamelBak valves and figuring out what nutrition would help me run across Singapore.
Planning the route of my run turned out to be the easiest part of the challenge.  Initially, I had thought of sticking to the NParks 36km Coast-to-Coast trail (adding on a stint through Tuas) but with certain sections of it still closed I reverted to trusty Google Maps' walking directions from Raffles Marina in the west to Changi Village in the east.  51km along a straight and relatively scenic route.  Throw in a loop of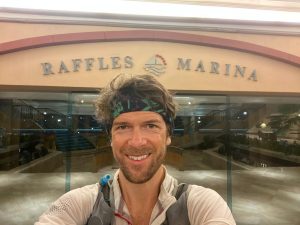 Bedok Reservoir and a detour via the Changi Sailing Club boardwalk and it came to the target 55km – my little way of saying happy birthday to Singapore ahead of National Day.
I chose to run west to east partly because the Tuas containers stint looked to be the least visually appealing (so a good one to do in the dark) but mainly because my target finish line was in reality the drinks queue at Little Island Brewing Co. I imposed my own race conditions, eating my usual pre-race meal and sticking to a strict start time. This gave me a curious pre-race buzz whilst whizzing along the west-coast highway in a cab to the Raffles Marina start-line in the early hours of Saturday.  The most perplexed look I received all day came from the security guard at Raffles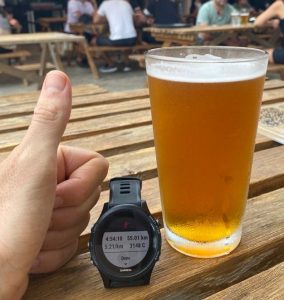 Marina after I explained that I did not actually want to enter the building, just touch the front door as it was the starting point of my cross-island run.  Not your average 5am request.
A lot of the route took me via places I have passed many times on bike, but one of the joys of running is having both more time and more freedom to take in your surroundings and absorb what you are running through.  Whilst most of the route was on roads and there was not much scope for taking detours through parks or very green areas, I still enjoyed witnessing the island wake up.  It also helped me to piece the island together better in my mind.  From Tuas to Jurong to Toh Tuck to Bukit Timah to Novena to Geylang to Tampines, and then finally to arrive at Changi Village. Bedok Reservoir and Changi boardwalk were particular highlights for me as I had never been to either and it certainly was a nice respite to have some water to run around.
Whilst I have run longer distances, my long-distance run fitness was far off its peak, so I certainly did not find it a walk in the park (and at times I wished Singapore was only turning 35 years old!). But the joy of a personal challenge is that it lies with the individual as to what they see as a success. As I sipped on my frosty celebratory pint, looking at the map and mulling over my increased geographical awareness of my adopted country, I was curiously grateful that 2020 had provided such an opportunity.