24 Mar

FUELING A PASSION FOR TRIATHLON SINCE THE TENDER AGE OF 8

Samir has been an avid triathlete since the early age of eight. At only twelve years old, he joined the MetaSport family and committed years to his passion for racing. Currently serving his National Service, we had a catch up session and did a little throwback to his early days of racing and how he got to where he is today.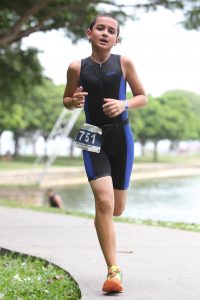 My first exposure to triathlons was when I was just eight years old. It all started with a super short aquathlon at school but something about the full sprint maximum effort race had me addicted. When I turned nine, I convinced my parents to let my sister and I do our first triathlon – she absolutely hated it! In her mind there was nothing worse than swimming at full speed followed by a max effort cycle and finally starting a run when you're already dead tired. But to me, it was amazing, and I was hooked.
At the beginning, triathlons weren't a significant part of my life. Being a young energetic kid, I was participating in a wide variety of sports including the swim team and cross country team which helped to keep me race fit. As I stopped playing other team sports, I decided to focus more on triathlons.
I joined Metasport aged twelve to be able to go out riding safely in a pack. It was in these early days, when I spent two hours riding at max effort just trying to hang onto the wheels of the cyclists in front of me, that I decided this was the sport for me. Whilst I soon learnt that riding 70km around the island every Sunday as a twelve year-old wasn't the best training for my 12km triathlon (swim, bike, run), I didn't care. I just wanted to be out there.
As I got older and faster I channeled this energy and drive along with some guidance from my coaches to train smarter and go for results. It started to work. As I kept working hard and competing, I quickly found myself on the podium of local and overseas races.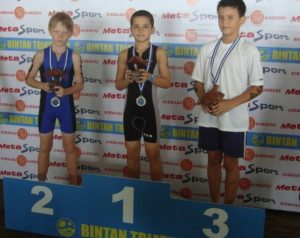 One of my most vivid memories is from the Bintan Triathlon, which just so happened to be on my birthday weekend. Bintan provided a special atmosphere – the course was different, hillier and exciting, and the ocean much more picturesque than Singapore waters. The fact that I got to go race triathlons and feel like I was on holiday was a dream come true. After my first race in Bintan, I did my very best to make sure I convinced my dad to take me back annually.
By the time I was sixteen I was training 9+ times a week across all the disciplines, with Sunday's 6am wake up being my "sleep in" day. Fortunately, hard work paid off once again and when I was seventeen, I came 2nd in the Singapore Nationals and got selected for the Singapore High Performance Program (National Team) as a junior athlete. I pushed myself further and trained even harder as I balanced my school work with representing Singapore in various races around Asia.
The biggest race of my career was the Asian Championships in Korea. ITU Triathlon was a completely different experience from regular racing because we were treated like professionals. We had a week's worth of events just for the one race, including long race briefings, elaborate equipment checks and detailed course recces. Racing on this elite stage against Asia's best was high pressure but very rewarding and exciting.
I was also fortunate enough to represent Singapore as part of the mixed team relay, a newly added category to triathlon. This relay is a shorter distance triathlon that gets repeated by each of its team members, two female and two male athletes. This short type of racing is by far my favourite as it is the most exciting and anything can happen.
But as it often is in life, I learnt that triathlons weren't only about me and my desire to race but that It was also about sharing my passion with others and inspiring those around me.
I was fortunate enough to spend the last few years of my highschool coaching the various disciplines for the sport I love. I started with swim lessons, aimed at people of all abilities, but quickly moved to teaching aquathlon lessons for children at the International French School Singapore.
Recently, I have had the opportunity to teach some more kids on behalf of Metasport in their pre-race clinics. I have always had a blast teaching kids and try my best to share with them all my knowledge while creating a fun learning atmosphere so that hopefully, one day, they will share the same passion towards triathlon that I have.
I am currently doing my National Service for the Singapore army, but I make sure to try my best to keep fit along the way. I can't wait for the races to start back up and to go back to racing on the Asian circuit again.