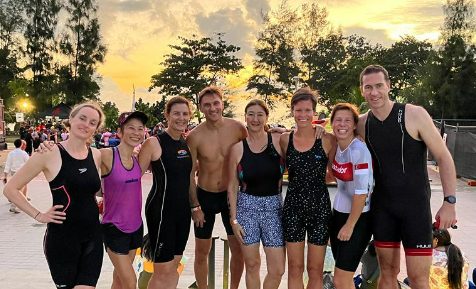 29 Aug

OUR METAMATES HIT THE ROAD

In late August, 30 MetaMates headed over to race in the Olympic distance on Saturday, followed by Sunday's IRONMAN 70.3 Desaru. Ebbie and Wille raced in both events!

They say it takes a village – this is definitely the case with MetaSport training. Members rallied and organised transport, last minute hotels, photography, medical support, baby sitting, calming nerves, lending bike pumps and many other things. It made me feel proud to be a part of such an amazing club.

The support started long before the race.  I only signed up because so many MetaMates were doing it and I didn't want to miss out on the fun!  Angeles organised several "party buses" to take members over, yes it included music and flashing lights – which was entertainment in itself.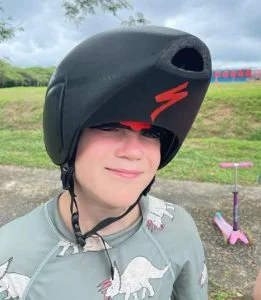 With both Rich and Suzie racing, they had a baby sitting issue, no problem!  Injured member Deke woke up at 5am to babysit!  Now that is commitment.  He taught them how you can go faster with an areo helmet (see photo).  Young Ben will never want to hop on a scooter without it.
Throughout the race, there was rarely a moment when we couldn't hear a cheer – whether they were there to cheer or to race, the support was there and it was enthusiastic, which is exactly what we needed on that challenging run course.  Running down the finish chute and having everyone screaming for me is a memory that I will never forget.  When Andy Ladd finished his first half IRONMAN (at the age of 60!) it was so emotional, you could see how much it meant to him.
The swim was relatively calm, there were some weird prawn/worm-like things in the swim which was a little icky! The swim was followed by a long run into transition, made way easier with the cheers from Rich and Suzie's kids, we then went  on to a challenging but scenic bike course. As it was a two lap course, it gave up plenty of opportunities to cheer for each other.
 The run was three laps and was very hilly – I was not a fan of the run at all!  Coach Wille's shoes broke and he was forced to run barefoot – that man is hard core! Although he was heard to say "Not only have the wheels fallen off this wagon, it's gone up in flames."
Congratulations to all and thank you to the best cheer squad! Racing with friends is so much more fun!  Grab your friends for the next one!
Results
5150
Wille Loo – 1st (35-39)
Andrew Harvey – 3rd (30-34)
Ebbie Baghaie -2nd(60-64)
70.3
Men
Hector Perez Garcia  – 3rd (35-39)
Wille Loo – 15th (35-39)
Rich Bacon – 26th (35-39)
Kenya Endo – 38th (35-39)
Henry Woon – 71st (40-44)
Karhoe Chan – 80th (40-44)
Vlad Tsyryuk – 123rd (40-44)
Ebbie Baghaie -11th (60-64)
Andy Ladd – 15th (60-64)
Women
Natalya Marushich – 8th (40-44)
Donna McWilliams – 15th (45-49)
Team
Suzie, Rebecca, Itsuko – 1st
Angeles, Dharinni Kesavan – 2nd