21 Nov

Press Release: Premier Asia Amateur Cycling Tour Shows Promise for the Future

2013 Tour de Bintan Review

Despite the torrential tropical rains persisting throughout the Tour de Bintan weekend, organised by Metasport, riders were not deterred and some exciting racing unfolded throughout the three-days.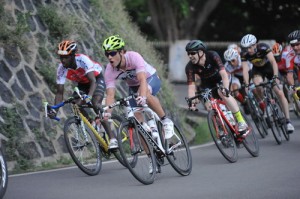 Just a short ferry ride from Singapore to Bintan Island, is the site of one of Asia's biggest amateur cycling events with more than 1100 entrants signing up to participate in an action-packed weekend. It began with the 12km prologue, despite pouring rain, times were blistering fast. Stage one's 150km dawned a brilliantly sunny day and for half the stage it was hot'n'humid like normal Bintan weather that had the water neutral support kept busy with re-hyrdrating the riders; however, when the thunderstorms started, it was a welcomed relief from the intense heat and it became much more manageable with the rehydration. Throughout the Queen stage, roads were lined with thousands of enthusiastic school kids out in force to cheer the riders on; it was like experiencing your own Le Tour with you as the star rider. A few riders were seen hand clapping the kids on the side of the road as they zoomed by, causing rapturous excitement.
The atypically cooler Bintan weather continued for day three for the final 107km stage, which was essentially a combined stage two and three from previous years and made for much more interesting racing with a higher attrition rate. The rain continued to fall throughout the stage, but it failed to dampen the enthusiasm of riders to produce exciting racing and test rider handling skills on wet roads in the peloton.
Category two rider, Chris Nyonyintono (Specialized Confero Mavericks) has been coming back to Tour de Bintan for four years now and keeps coming back for the quality racing and organisation put on by Metasport. "Metasport continue to run a really well-oiled event and the level of the racing just keeps getting better regardless of the weather."
"The Bintan event is awesome as it offers cyclists from beginners all the way to the seasoned elite rider the opportunity to race in a high quality event. With both the race HQ and accommodation being based in the Nirwana Gardens, it makes it super convenient for riders and it's nice to have a swim at the beach or poolside at the resort after each stage!"
The women only category has been steadily growing over the last couple of years at the Tour de Bintan, since its inception to encourage more women to take part in races.  The 2013 edition saw 31 intrepid women from all over the Asia Pacific participating; it is definitely a big attraction for women to enter with other women instead of mixing with men.
The opening prologue winner, Tina Haugbro, was ecstatic with her win and it set her up for an exciting Tour de Bintan. "I was thrilled with my prologue result and my time of 18.14 placed by 61st out of 222 riders. Wearing the yellow jersey was an incredible honour I will never forget to be amongst such a talented field of women."
Tina Haugbro subsequently lost her yellow jersey due to time bonuses gained by the powerful Australian Rebecca Mackey but finished second overall. Haugbro credits Metasport for their initiative, "I believe that the Tour de Bintan and the professional work of MetaSport is an integral part of forwarding the women's cycling movement in South-East Asia."
Throughout the entire weekend, with the ever-changing weather, the MetaSport team did their utmost to keep riders safe. The course was well marked and information was continuously communicated to the peloton.  Large drink stations were provided, with an army of volunteers, as well as a mobile drink support for the peloton.
The winner of Category two, Brian Johnsen (Specialized Confero Mavericks), had to battle hard to win back the yellow after losing it in stage one. "It was that much sweeter that I had to work hard to win it back after losing it. All of my training has paid off with my Tour de Bintan victory and I look forward to racing with the big boys next year."  Johnsen further expounds "My highlight of this weekend was finally making the breakaway and hearing the three minute time-check with just 15km to go after working with a group of committed breakaway partners for more than 80km. That time check just gave me the wings I needed to finish the stage; I could already taste victory and with new revitalized revitalised legs I was able to hammer it home to the Nirwana Gardens finish."
Many riders thought the newly introduced format was a big improvement with the 12km prologue and longer Sunday stage, and so this format looks set to stay for years to come. It does heavily favour the rider who can time-trial well as the stages all typically finish in bunch sprints.  Swiss rider, Pierre-Alain Scherwey aka Robocop, blazed away to a stunning time of 16.14, a new course record under heavy rain! Scherwey's time together with just two Anza Cycling team-mates for support was enough to successfully win the 2013 Tour de Bintan event ahead of Taylor Price (Specialized) and Tjarco Cuppens (Lapierre Asia Cycling). Despite the repeated combined efforts of the big teams present in DirectAsia.com and the much vaunted Specialized Confero Mavericks, it was the smaller teams with less man-power that took the top three steps of the podium at the 2013 edition of Tour de Bintan.
Apart from the four main categories including the women, the 2013 Tour de Bintan also successfully ran featured three Gran Fondos that had a non-competitive element, with hundreds of riders completing the distances. The Gran Fondo events in Bintan are a great way to discover cycling and explore a new destination. Many riders who complete Gran Fondos move up to compete in the categories. The Tour de Bintan event is also part of the Indonesian Tourism board strategy to attract more tourists to Indonesia, traveling specifically for sports tourism; it is a tourism niche that is growing quite rapidly around the globe, especially here in Asia.
About Tour de Bintan
The Tour de Bintan (tourdebintan.com) is an annual cycling tour and Gran Fondo held each November on Bintan Island, Indonesia, located just an hour's ferry ride from Singapore. Comprising different racing categories (including three choices of Gran Fondos), this three-day event offers challenging routes across three stages with set time limits, covering a total of 265 kilometres in the rolling hills of Bintan. Organised by Metasport, this competition attracts professional and serious biking enthusiasts, as well as amateur cyclists from all over Asia. Whether you're battling it out at the front or coasting along at your own pace, everyone is rewarded with tropical scenic landscapes and the vision of thousands of school kids full of admiration waving the Indonesian flags cheering you along.