28 Jun

Staying Motivated and Fit Through The Pandemic

The last 15 months have been tough on all of us.with disruptions to racing and training plans. MetaSport Training has also had its own challenges. Coaching Services Manager Donna McWilliams shares how the MetaMates have kept fit and motivated in these ever changing times.

Keeping fit, healthy and motivated is hard at the best of times but during a pandemic it's even harder!

When you don't feel like training or going out the best advice is to just start! Get off the sofa and go outside, start with a walk and move into a gentle jog and go from there. The initial steps might be the hardest, but the endorphins that come from your workout will leave you feeling happy that you went out after all. Once your heart is pumping and adrenaline kicks in you feel so much better and end up doing a great workout.

When there are no races on the horizon, it's hard to keep up the momentum. At MetaSport training we have come up with many ways to keep everyone excited.

We have held many different challenges over recent months – why not give them a go yourself!

Beat your 5km time. We challenged our members to run 5km. We then asked them to run the same route each month, focusing on getting faster each time.

Cycle in your living room on your bike trainer.  Our members joined our head coaches Kate Bevilaqua and Guy Crawford, who are based in Australia, on weekly zoom cycle meetups. Kate and Guy led the group for hour long interval sessions, they were tough but fun. You can do your own sets or join Zwift and do one of their courses.

Quiz night. We have 50 members join us online for an entertaining evening including a virtual quiz. Can you answer this question? Which two male Triathletes are popularly known for their "Iron War" in Kona. (Answer: Dave Scott and Mark Allen)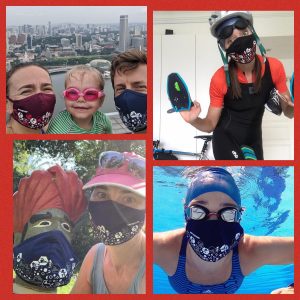 Grab a group of friends and arrange your own fun evening.
Selfie competition.  We held a selfie competition. Members were challenged to take the most creative selfie while wearing our MetaSport mask. Check out the  photos of some of their entries.
In summary, top five tips to stay motivated:
Just start moving!

Find a training buddy (or four, now that the maximum group size is five). Training with someone else always makes it easier and more fun.

Set goals, like "Couch to 5km", or "Swim 1km in one effort", and work at getting closer to that goal

 each week.

 Follow a program.

Hop on the bike trainer and clock some sessions!
Remember no matter how fast (or slow) you go, you are lapping the thousands of people that are at home and on their sofas!
Stay positive and be healthy!