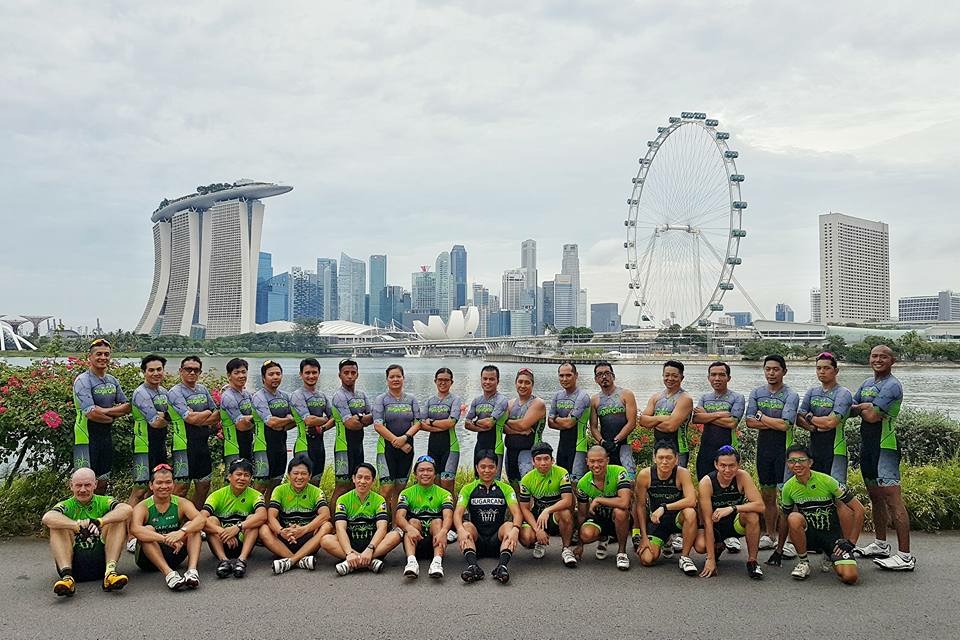 25 Jul

SUGARCANE TRIATHLON CLUB

When thinking about what club to feature this month – it immediately came to mind that we should feature a club that has been taking part in our events in droves. And with IRONMAN 70.3 Bintan coming up – they have over 30 teams taking part!

So we got up close and personal with the club's spokesmen to find out what makes this team tick, and the secret to their success!
How and when did Sugarcane all start?
OHMAR:   SUGARCANE was formed by a small group of Filipino IT professionals in Singapore, who were members of a swimming club in Changi Business Park.  We started our regular swimming sessions in Tampines Swimming Complex back in 2007 and then added our regular cycling sessions along Changi Coast Road and East Coast Park Connector in 2008, before we formally named our group as 'Tropang Sugarcane' or 'SUGARCANE', on 11th July 2009.
Where are you all from?
OHMAR:  The founding members are all Filipinos, based in Singapore.  However, as the economic climate changes, some of our teammates have decided to migrate to USA, Canada, Australia, New Zealand, Taiwan, Brunei and some went back home to Philippines.  As of today, we have also added new members from these countries.  They are mostly family members, friends or work colleagues of our teammates who have moved to live, work and play in their respective new host countries.
Why "Sugarcane"?
OHMAR:   When we decided to give a name to our group, we preferred to use a name that will just be for fun and not intended to be taken seriously.  Sugarcane was our favourite recovery drink ever since we started to cycle together in 2008.  Hence, 'Tropang Sugarcane' or SUGARCANE' was one of the proposed names submitted and was eventually selected.
What is your secret to growing your club?
LARRY:  Our group has no formal organizational structure and we treat each other equally.
ROM:  We are a family-oriented group bounded only by common interest, to train together safely and be the best version of ourselves.
GAM:  It's all for fun.
UGIN:  Sugarcane is All Fun Club.
RAMIL:  We are a drinking club with bikes and pizza.
RAYMOND:  Sugarcane activities, training and races are not only confined to the athletes.  Family members are also encouraged to participate as well.  We have also maintained mutual respect to each other.
OHMAR: We are open and we always welcome those who are new to Triathlon as well as those who are experienced Triathletes, who want to train with us for fun and camaraderie.   We also welcome those who are members of other groups.  Some of our members are also active members of other Sports and Special Interest groups, namely Citi Swimming Club, Pinoygraphers, Padyak Pinoy, Greenhills Tri Team, BB Tri, ArmyNavySouth Tri Team, TriClark, Riptide, BSG, Pinoy Bike Brothers, Tropang Putikan, WAB – We are bikers, Pinoy SG Runners and Masters Philippines.  We are happy to train and collaborate with other teams, to make Triathlon, Swim, Bike, and Run training sessions more fun, competitive, effective and safe for all of us.
How many teams have entered for IRONMAN 70.3 Bintan?
OHMAR:  We have registered 17 men's relay team, 4 women's relay team, 11 mixed relay team and 3 individual entries.
Who do you think are more competitive – Men or Women?
ROM:  Men are more competitive, but women are catching up.RAYMOND:  Women are now more competitive than men.
What expectations do you have of your teams in IRONMAN 70.3 Bintan?
LARRY:   We expect our team to be on the podium.  We train to win, our group is driven by passion and competition.
JOHN:  We expect our team to finish on the podium and defend our title from 2016 Bintan IM 70.3.
GAM:  We expect our team members to hold the finish line banner.  Hoorah!
OHMAR:   We expect our team to do their best and to compete for fun.
Is it only a triathlon club?
JOHN:  It is more of a family than a triathlon team.
BECHIE:  It is a multisport club that promotes discipline to all members, their spouses and children, by encouraging them to engage in sports activities.
Do you have other events that you take part in as a team?
OHMAR:  Our members have taken part in the Singapore Swim Stars Open water swim, Spartan races, Gold Coast Marathon, Philippines Caramoan 10K Open Water Swim, Xterra Langkawi, IRONMAN Cairns and IRONMAN 70.3 Subic Bay in the first half of 2017.  Some of our members are registered in the Singapore Standard Chartered Marathon, IRONMAN Lake Placid, IRONMAN Korea Gurye, IRONMAN Langkawi and IRONMAN 70.3 Cebu in the second half of this year, and IRONMAN Subic Bay 2018.
Any advice to other clubs that are wanting to grow and have such a tight team spirit like your club?
LARRY:  Be an inclusive group and be supportive to your teammates, including your athletes' family members and friends.
OHMAR:  Be respectful to your teammates and help them train better and safer for their next race, whenever you can.  Last but not the least, remember to have fun – Organize BBQ parties, coffee get-together and enjoy the company of each other, especially during rest days!
Special Thanks to Ohmar Ambrosio, Fernando Mendizabal, Larivin Sevilleja, Gamaliel Sevilleja, Rom David, Ramil Velarde, John Cruz, Ugin Castaneda and Raymond Borromeo for participating in this interview.